The latest Sonic title hopes to go back to its roots, according to the development team.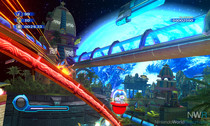 Sonic Colors Producer Takashi Iisuka affirmed that Sonic Colors for the Wii and DS aims to take the franchise back to its simpler, fun roots seen in the classic 2D titles and that the development team has found the issues that have plagued the recent 3D titles.
He mentions that "the reason why is because the 3D titles don't reach the level of quality the fans expect. The development of Sonic Colors has been guided by the pros and cons of the previous 3D titles."

Iizuka also reveals that one of the inspirations behind Sonic Colors is the Mario and Sonic at the Olympic Games series, mainly it's "pick up and play" ideals. "I had the feeling that the franchise had begun to take itself too seriously and the story too profound," he said. "While I have always seen Sonic as a fun, enjoyable and laid back series. This is why we believe that Sonic Colors is just as good as the classic 2D titles."

Sonic Colors will be released this November.