Happy birthday, Mario!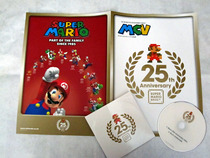 Today marks the 25th anniversary of the Japanese release of Super Mario Bros. While the Mario character has appeared in arcade titles prior to this date, Super Mario Bros. is what brought us the plumber's land of green pipes, koopas, goombas, and mushrooms.

Here we take a look at some of these promotions and campaigns taking place worldwide.

In Japan, Nintendo's official site has details for an anniversary campaign, where over 10,000 people will win Mario merchandise through a Club Nintendo raffle. There are tote bags, t-shirts, and playing cards on draw for anyone who purchases an eligible Mario title from today until January 10, 2011 and registers the game with Club Nintendo.

A special edition of Iwata Asks minus Iwata has been posted, titled Shigesato Itoi Asks Instead of Iwata: Super Mario 25th Anniversary Asks. As Satoru Iwata and Shigeru Miyamoto have discussed the Mario series so often, Shigesato Itoi takes his place as interviewer to bring a fresh perspective. Itoi is most famous in Japan for his copywriting work for advertisements, and his work as a creative director for games. He is the creator of the Mother/Earthbound series.
Itoi Asks is the first installment of a special Iwata Asks series for the anniversary campaign. In the past, Iwata was interviewed by Itoi for his website, "Almost Daily Itoi News". He was very impressed with the rich information that was contained in the interview due to Itoi's interviewing skills. This is one of the reasons Itoi was chosen to ask Miyamoto about 25 years of Mario history. The article is very long and in-depth, covering the following topics.

1. What can't be said with words.
2. "You're a pretty negative one, aren't you?"
3. "Alright, shall we head in that direction then?"
4. Write why it's wrong on the label.
5. If the timing is off, it's all off.
6. Making everything as straightforward as possible.
7. Presentations in 2 points.
8. Input is loose.
9. What's standard for a consumer.
10. Making sure that everything plays out accordingly.
11. Has "Mario" continued without a hitch?
12. What engrosses players 25 years later.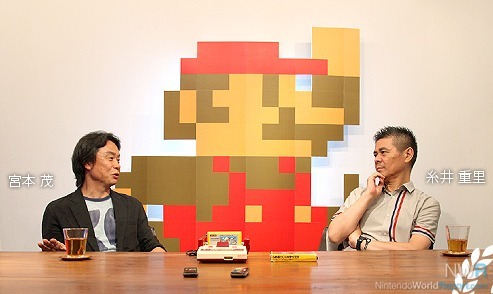 The Super Mario Collection page has been updated with new images. The special release includes Super Mario Collection (Super Mario All-Stars), originally on Super Famicom, now playable with the Wii Remote. The box set also contains a booklet with 25 years of Super Mario History and previously unreleased development materials, and a soundtrack CD with music ranging all the way from the original Super Mario Bros to Super Mario Galaxy 2.
In the UK, Nintendo sponsors an extra edition of the weekly MCV UK trade magazine devoted to Mario's anniversary. Articles include comments from developers, journalists, and the Nintendo UK team.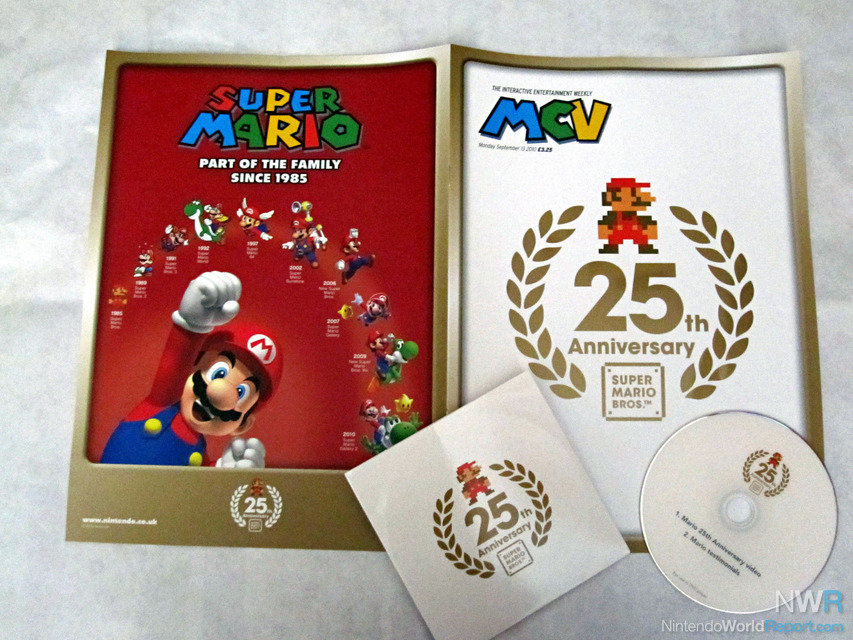 A DVD was enclosed containing the video campaign, of which shorter format versions have been running in television advertisements since September 9, and the debut of the 90-second version in a primetime slot tonight. The video includes testimonials from real people to UK celebrities including Jonathan Ross, Ant & Dec, Jamie Cullum and Diversity. Patrick Moore, renown astronomer and the original GamesMaster from the television show of the same name, is featured near the end of the video, describing how to reach the warp zone in Super Mario Bros.