The next game from the guys who made Henry Hatsworth won't be coming out this year.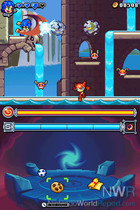 Majesco confirmed today that Monster Tale isn't coming out until early 2011.
Originally slated for a December 2010 release, the game is listed by some retailers as coming out on March 15, 2011.
Monster Tale is a DS game developed by DreamRift, a studio made up of members of the team who made Henry Hatsworth and the Puzzling Adventure. Like Hatsworth, it combines two genres and makes use of the system's dual screens. In Monster Tale's case, it combines a Metroidvania adventure with a virtual pet simulator. You can check out our E3 impressions for more about the game.