Slowing DS sales and stronger yen are contributing factors.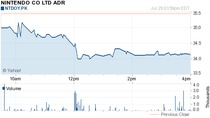 For the first time in more than two years, Nintendo has posted a loss for the quarter ending June 30 2010. Net loss was 25.2 billion yen ($289 million), a 42 percent drop compared to the same period in 2009. Sales revenue dropped 26 percent to 188.6 billion yen ($2.1 billion).
The large drop in revenue has been attributed to slowing demand for the Nintendo DS, including a 33 percent drop in US sales last month, and the stronger Japanese yen. In total, 3.15 million DS units were sold compared to 5.97 million in the same period last year, a 47 percent drop. Software sales experienced a 23 percent drop to 22.4 million units. Wii hardware sales in fact increased to 3.04 million from 2.23 million.
Annual profits for the year ending March 31 2011 are expected to drop 10 percent, to 320 billion yen ($3.6 billion).