The Virtual Console looks to be getting another 16-bit Final Fantasy game.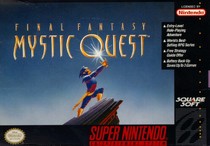 Final Fantasy: Mystic Quest recently appeared on the website of the Australian Classification Board, meaning that it will likely soon appear on Virtual Console as well.
Mystic Quest, a simplified take on the Final Fantasy formula, was originally released by Squaresoft in North America in 1992 for the Super NES. The game will be the second SNES Final Fantasy game to appear on Virtual Console, with Final Fantasy VI (III in North America) still unreleased. Final Fantasy II was released on the Virtual Console in North America on March 8, 2010.

The game stars a character named Benjamin who must save the world by gathering crystals representing the four elements of the world. Many of the standards in other Final Fantasy games are absent, such as random battles and save points.
No release date has been set, nor official announcement been made regarding this release.