In his online blog, Hironobu Sakaguchi posts about his visit to Nintendo in Kyoto.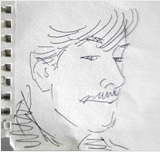 In his latest entry on the development of Last Story, Hironobu Sakaguchi talks about a four-day training camp held at Nintendo's old office buildings in Kyoto.
He writes of nostalgic feelings returning to the company's offices after 20 years have passed (his early days in game design were sometimes spent there), and discusses the implemention of suggestions from the Last Story game review process that was conducted. While difficult, as some of the requests seemed overwhelming, discussions and "night thinking" led to the incorporation of improved features and an overall more polished title.

Sakaguchi also says he found it beneficial to exchange stories with Nintendo staff during lunch, leading him to feel the "Nintendo-ism" that leads to something being created from nothing. He specifically mentioned the desire to "create something fascinating" that is prevalent around the Nintendo offices.

Hironobu Sakaguchi is the creator of the Final Fantasy series and is now at Mistwalker, a studio he founded in 2004.