Atlus will include copies of "Forests of Eternity" with their upcoming DS RPG.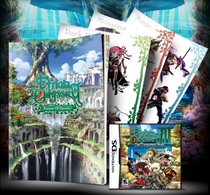 The pre-order gift for reservations of Etrian Odyssey III will be a copy of "Forests of Eternity," the 60-page artbook that includes designs and sketches from each entry in the Etrian Odyssey series.
Atlus has posted an interactive preview of the book to further tempt any hesitant fans. The bonus is available at participating retailers, and only while supplies last.
Etrian Odyssey III is set for a September 21 release.