Four lucky fans gain video game immortality.
EA Sports has been running a contest on Facebook that allowed fans of NBA Jam to submit and then vote on four catchphrases to be used in the game. The winners have finally been chosen.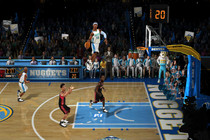 According to the official NBA Jam Facebook page, the winners are:
"Objection Sustained!"

"No Shoot for you!"

"Bangalanga Do-Dah!"

"And The Survey Said...DENIED!"

The fans that submitted these four top vote-getters will have their names listed in the game's credits as well as having their phrases added to the game.
NBA Jam is set to be released this Fall exclusively on Wii.