The recently announced Battle Road Victory title will come with a special controller.
Square Enix has announced that their Dragon Quest spin-off title Battle Road Victory (based on an arcade card battle game) will receive a special controller courtesy of Hori.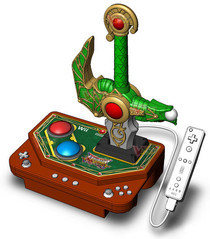 The controller simulates the controller layout seen in the arcade version. The sword in the middle of the controller has the same function as the arcade version: when pressed, players unleash a special attack. The controller connects to the Wii Remote and operates under the Classic Controller options, confirming that the title will feature multiple control schemes.
The special controller has been priced at ¥12,800, or around $130 dollars in the US.