Iwata explains the purpose of "My First Super Mario Galaxy 2", a DVD bundled with the game in Japan and Europe.
Super Mario Galaxy was not as big in Japan as it was overseas, as only one-eighth of its lifetime sales came from that particular market. To try and change that and avoid the possibility of the game's sales performing below the original, Nintendo has decided to bundle the game with a DVD entitled "My First Super Mario Galaxy 2" in both Japan and Europe.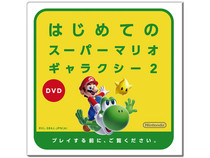 During a recent investors meeting, Iwata explained that the DVD will be ncluded to address the concerns that many gamers have with playing Mario in a third dimension. New Super Mario Bros. Wii has shown has that Japan loves two-dimensional Mario, yet his 3D outings have failed to match the sales of his more traditional titles.
To combat this issue in Super Mario Galaxy 2, Nintendo tried to make a 3D world where players would not be overcome or frustrated by the idea of having a sphere-shaped level design. The DVD includes tips that will help newcomers get a better handle on controlling Mario in the third dimension.