A new power up is revealed and more possibilities are promised in the cooperative mode.
An update on Nintendo's Japanese website for Super Mario Galaxy has revealed a host of screenshots and videos for new features. Exploring the microsite gives you a handful of screenshots of the new enemies, videos of the red, yellow and blue Yoshis and their various interations and some of the new gameplay.
As with the original Super Mario Galaxy, it will be possible for a second person to play cooperatively with an additional remote. The below image, taken from the microsite, seems to show the second player controlling a red Luma to help squash a Goomba. The text describes the two player cooperative mode as even more convenient, with more to do than before.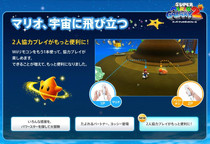 In addition, Official Nintendo Magazine has revealed artwork of a new power-up, Cloud Mario. This power seems to give him the ability to walk on steps formed from clouds.