DSiWare application lets you easily count down to important events.
Nintendo is bringing a new productivity application to DSiWare in Japan next week. It is a calendar/event planner application entitled "Nintendo DSi Calendar", and will be released on December 2 at a cost of 200 DSi Points.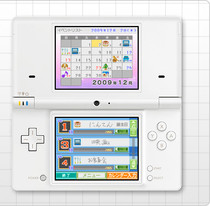 The core functionality of the program is to provide a countdown to important events. Up to 110 events can be added to a user's list, with pre-loaded events including "Graduation Ceremony" and "Pay Day". Custom events can also be created by users, and sorted by event type.
The calendar is meant for daily use, giving you a greeting each day and informing you of seasonal events. It also gives you congratulatory messages on special occasions, such as your birthday.
Like the recently-released 530 Eco Shooter, Nintendo DSi Calendar was developed by Intelligent Systems.