Tecmo is planning on bringing the mystery title that takes place in New Jersey, and the latest DS entry in the Monster Rancher series, to North America next year.
Tecmo and developer Cing are teaming up to bring two new DS title to North America: Again, and Monster Rancher DS.
Again is another text adventure from the makers of Hotel Dusk that features a developing mystery with crime and intrigue.
Taking place in the fictional New Jersey town of Clockford, players control FBI Agent Jonathan Weaver as he investigates a series of unsolved murders that have a disturbing similarity to a series of murders from the town's past. The game is riddled with puzzles, and takes advantage of the system's dual screens.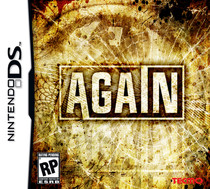 Monster Rancher DS is something of a series compilation, as it brings back a lot of old favorite monsters in the series' first portable entry since 2002.
It features the gameplay of past titles, as well as local and online multiplayer. Players can also combine their monsters with other player's creatures to create new breeds.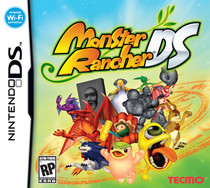 Both games are due out in March 2010 and have yet to be rated by the ESRB.
TECMO® DOUBLES UP IN MARCH 2010 WITH AGAIN™ AND MONSTER RANCHER®DS FOR THE NINTENDO DS™
From the Makers of Hotel Dusk Comes AGAIN, an Intriguing Crime Mystery, and Everyone's Favorite Monster Breeding Game, Monster Rancher DS!
TORRANCE, Calif.—November 10, 2009—TECMO and Japanese developer Cing have partnered to produce two new Nintendo DS titles, AGAIN™ and Monster Rancher® DS. Both titles are slated for a March 2010 release in North America.
AGAIN
From the makers of Hotel Dusk comes the new crime mystery title, AGAIN. Featuring a captivating story full of suspense, unexpected surprises and unique visual presentation, Cing's latest creation takes the text-adventure genre to a whole new level.
Story:
The story begins 19 years ago when an unsolved series of murders shook up the town of Clockford. At the crime scenes, detectives find a crucial piece of evidence linking the crimes together—a torn piece of a dollar bill, showing the Eye of Providence. In present day, another string of murders have started again with the same piece of evidence, convincing detectives to reopen the case. As FBI Agent Jonathan Weaver, you will follow the clues using his Past Vision powers and navigate through a fictitious adaptation of an early 90's crime-ridden New Jersey. In addition to uncovering the story, you will learn of each character's background, stories that are interesting within themselves.
Game Features:
- Clever Storyline: AGAIN presents an intriguing, suspenseful storyline, apart from the linear, that is full of unexpected twists
- Dual Vertical Screens—Past and Current Vision: Explore the clues of crime scenes by using "Past Vision" powers, and uncover secrets of the evidence in "Current Vision"
- Stylized Presentation: Live a novel, players hold the DS in a vertical orientation. There are dual 3D screens, a unique interface, and a use of actors and past events played out in full-motion video sequences
- Mind Bending Puzzles: Advance your way through cases by solving puzzles to get one step closer to unveiling the mystery.
AGAIN has not yet been rated by the Entertainment Software Ratings Board (ESRB).
MONSTER RANCHER DS
Filled with nostalgia of past Monster Rancher games and imaginative monster breeding, fans of the series will not be disappointed with this latest installment. Focusing on the traditional gameplay of previous games, the DS platform is perfect for this title, as gamers can travel with their portable device and battle friends locally, or via a wireless connection. In addition, two players can connect their Nintendo DS devices together to combine monsters and uncover new breeds! Imagine, create, raise, battle, and breed!
Game Features:
- Use Your Imagination: Recite your favorite word and see what monster is created! Or, if it's too loud to speak, draw a silly picture and see what monster appears. Unlock a secret method of creating monsters as you play through the game! You can even combine your favorite monsters to create a new, more powerful monster!
- Train to Become a Master Breeder: Find the best strategy to raise your monster on a weekly basis—too much rest or too much of the same training can be ineffective!
- Bring Out the Rivalry: Not only was the training and management portion of monster breeding brushed up, but there are also many instances to fight rival breeders in the game as well!
- Play with Friends: Battle your friends locally or online! Friends can also combine their monsters to create exciting new types through a local connection!
- Battle Rounds: Choose attack techniques to be placed in the "short," "medium," and "long" ranges and execute them when there are enough points in the guts meter. If no technique is selected for a range, it becomes a defense panel and evasion skills are improved at that range.
- Nostalgia: Favorites such as Monolith, Gali, Mocchi, and Suezo rejoin the cast of monsters in what can be called a Monster Rancher series compilation.
Monster Rancher DS has not yet been rated by the Entertainment Software Ratings Board (ESRB).