The world's a stage in the sequel to the hit Balance Board-enabled snowboard game.
Ubisoft has announced that they have once again partnered with Olympic Gold Medalist Shaun White to release Shaun White Snowboarding: World Stage, the sequel to last year's hit Shaun White Snowboarding: Road Trip, a title that has sold over three million copies worldwide.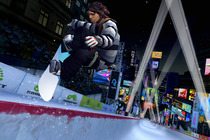 Shaun White Snowboarding: World Stage will once again star the snowboarder and his crew as they travel all over the world, including places like Canada and New York's Times Square, and face many tough challenges and competitions.
Developed by Ubisoft Montreal, the title will be part of Ubisoft's E3 Press Conference and will be released fall 2009.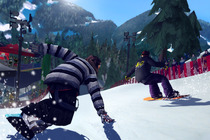 UBISOFT TOURS THE GLOBE WITH SHAUN WHITE SNOWBOARDING: WORLD STAGE
SAN FRANCISCO – May 27, 2009 – Today Ubisoft announced that it is collaborating again with Olympic Gold Medalist Shaun White in Shaun White Snowboarding: World Stage. Developed by Ubisoft Montréal, the game will be available exclusively for the Wii™ system from Nintendo and will be on store shelves holiday 2009.
"Working with Shaun on the first title was an excellent experience," said Antoine Guignard, Ubisoft producer of Shaun White Snowboarding: World Stage. "The great public reception of Shaun White Snowboarding and the wonderful collaboration with Shaun made it a slam dunk for us to reunite to create a fun, new adventure for fans."
Players will hit the slopes with Shaun White and his crew, but this time the stakes are higher as you pursue the world's top competitions from a half-pipe in the middle of New York's Time Square to the most prestigious competitions of France, Canada and Japan.
"Ubisoft has been a great partner, and I'm excited for World Stage," said action sports phenom Shaun White. "It's cool to give people insight on what my life is like on the competition circuit."
Shaun White Snowboarding was a worldwide success for Ubisoft, selling over 3 million copies since its November 2008 launch and establishing a new sports brand for Ubisoft. The title was also one of the first and most popular video games compatible with the Wii Balance Board™ accessory. Players will be able to break out their Balance Boards once again for Shaun White Snowboarding: World Stage when they flex their board skills either alone or together with family and friends.
Shaun White Snowboarding: World Stage will be showcased at the Ubisoft press conference during E3 at the Los Angeles Theater on June 1st at 5 p.m. Visitors can hit the powder, as well, at the Ubisoft booth on the show floor (South Hall, Booth #1022).
For more information on Shaun White Snowboarding: World Stage, please visit: www.shaunwhitegame.com.