Nintendo's third quarter financial results suggest that Wii Sports Resort and Punch-Out!! will arrive in the first half of 2009. Also, Kirby Super Star Ultra and Wii Music join the list of Nintendo million sellers.
Nintendo's financial releases often contain data that can be of interest to game industry followers. Most recently, supplemental data for Nintendo's third quarter finances included a list of recent first-party million-selling titles as well as a rough forecast for future releases.
To begin with, Nintendo listed 15 first-party DS titles and 11 first-party Wii titles that classified as million sellers and received sales during the period of April 2008 to December 2008, the first three quarters of Nintendo's current fiscal year. While the list doesn't include games that may be million sellers but did not post million unit sales over the last nine months, it also includes 17 games that launched in one or more markets before April 2008. The presence of so many of these titles goes to show Nintendo's ability to exhibit what they call "evergreen" sales long after a game's release.
Recently launched DS titles that joined the million-selling club include Pokémon Mystery Dungeon: Explorers of Time/Darkness, Pokémon Platinum (currently available only in Japan), Kirby Super Star Ultra, Rhythm Heaven, Personal Trainer: Cooking, and Pokemon Ranger: Shadows of Almia. Recent Wii games to cross the sales threshold included Mario Kart Wii, Wii Fit, Animal Crossing: City Folk, Wii Music, and Mario Super Sluggers.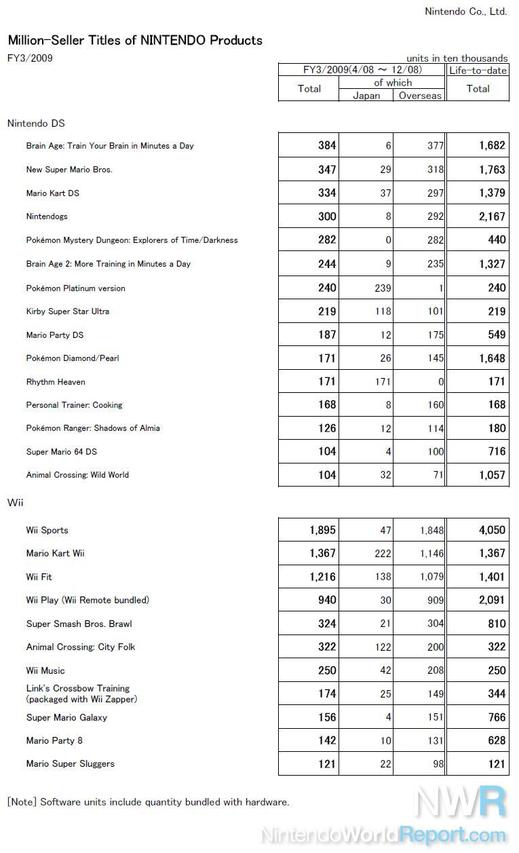 Nintendo also revealed a rough forecast of upcoming game releases. Though the list of games is by no means exhaustive and the dates and titles are subject to change, the report does indicate many upcoming Nintendo titles that are yet to see release or even extensive exposure. For example, Dynamic Zan (Dynamic Slash) and Cosmic Walker both were revealed at Nintendo's Fall 2008 Conference in October, but only through mere seconds of footage.
However, it is worth noting that Nintendo already seems to have plans to bring the Wii Adventure title Another Code R (the sequel to Trace Memory on the DS) and the diving simulator Endless Ocean 2 to Europe. There are no listings for the games yet under the section for North America. However, Nintendo has indicated an American launch for both Wii Sports Resort and Punch Out!! in the first half of 2009.
Long-time Nintendo observers should also note that Hoshi no Kirby, which started life as a GameCube title, is still on Nintendo's books.