Our take on which games you should buy for Virtual Console this week.
We love the Virtual Console here at Nintendo World Report, but let's be honest: some of the games are just not worth your money. Variety is the spice of life, sure, but some spices are best left on the rack. That's why we've decided to offer our quick take on which games are worth your cash, every Monday night. Consider this your one-stop shop for Virtual Console details. The staff at Nintendo World Report are experts on retro games, so we'll be recommending titles based on our past experiences with them as well as our quick playtime with them on the Wii.
We have invented a three-tiered rating system for Virtual Console games to keep things simple. The ratings are:

Recommended for Everyone: For those games that anyone can enjoy whether they've played it before or not.



Recommended for Fans: For the "cult-classic" game that may not be up everyone's alley, but is sure to put a smile on the face of 16 or 8-bit veterans, or those who played the game when it was first released.

Not Recommended: Games that shouldn't be played by anyone, or games that are horridly over-priced for what you get.
And now for today's titles:
---
Tennis - NES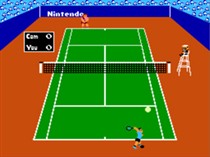 Released: 10/18/1985

2 Players

Cost: 500 Points

Controllers: Wii Remote, Classic Controller, GameCube Controller
The NES version of Tennis is one of Nintendo's first-generation sports games. The game features singles and doubles modes, five difficulty levels, and the un-heard-of ability to actually control your character's movement around the court. Take that, Wii Tennis!

Why would you spend $5 on an old tennis game when you already have a newer version that's more fun? Everyone has Wii Sports Tennis, making NES Tennis redundant. Don't bother with it.
---
Space Harrier II - Genesis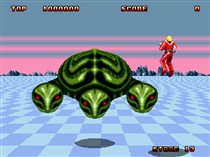 Released: 05/29/1988

1 Player

Cost: 800 points

Controllers: Wii Remote, Classic Controller, GameCube Controller
Fantasy-Land falls into crisis now. Space Harrier II is the sequel to the popular arcade game. For those who don't know, it's a forward scrolling shooter that is loosely similar to Star Fox. It features twelve different levels that are each selectable as soon as you fire it up. It controls fine with all three controllers as there is only one action, shooting. All of the buttons do this.

It's hard to rationalize spending $8 on a game like this. The main thing it had going for it when it was released was the interesting and almost unheard of use of semi-3D. In this day and age glaring hit detection issues and stale gameplay make it quite boring.
---
Military Madness - TurboGrafx 16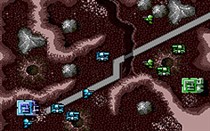 Released: 1990

2 Players

Cost: 600 points

Controllers: Wii Remote, Classic Controller, GameCube Controller
Billed by Hudson as the precursor to titles like Advance Wars and Heroes of Might and Magic, Military Madness is a retro turn-based strategy game featuring infantry and lots of tanks duking it out on the moon. Stats for each unit and the terrain play into the game's tactical play. The game controls fine with all three available controllers as only two buttons are used for in-game action.

If you like a good turn-based strategy game, you can't go wrong at this price. It's a lot more complex than you'd think, and includes an in-game manual with handy tips. Two players can duke it out as well.