This is how you'll be playing your Virtual Console. Update: We got a photo of the back as well as comments from a Nintendo reprentative.
While Nintendo didn't talk much about the Wii's "Virtual Console" at this year's E3 press conference, they did provide an image of the system's "Classic" controller. Here it is below.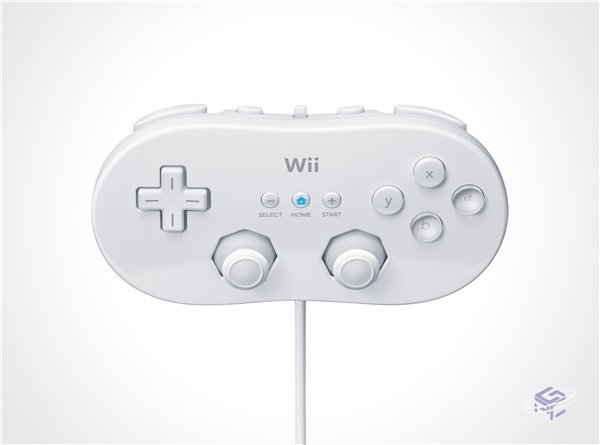 The pad looks similar to an SNES controller in its general shape, but has a few more features. It sports a D-pad (the same as the one used on the Wii), four face buttons, two analog sticks, and what appear to be four shoulder buttons (two large one and two small ones) all lined up across the top of the controller. The classic controller also includes Select, Start, and Home buttons. There is a cable coming out of the top of the controller. It's unknown at this time whether it connects directly to the Wii or to the Wii Remote Controller.
Update: 5/10/2006
Virtual console demo stations were on hand at E3. According to the representative on hand, as of now, the controller will not be packaged with the system itself, citing the fact that not all players will use the Virtual Console. He did admit that this is subject to change.
We also grabbed a photo of the back of the controller.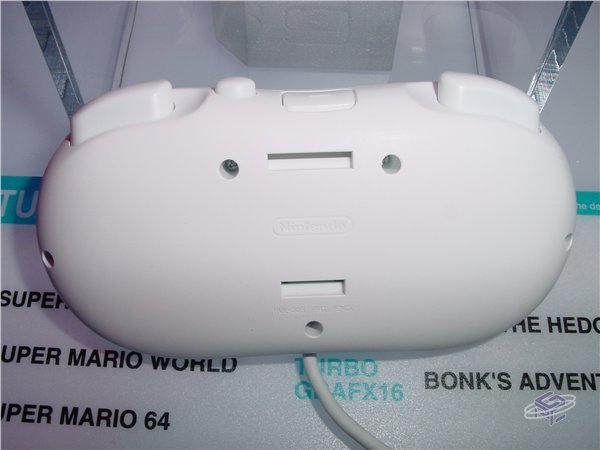 Three interesting things to note.
The shoulder buttons appeared to be analog. They had significant give but none of the games on display made use of them in any non-digital way.
There is a mysterious clip on the back of it which points to the ability to snap the classic controller in or on something. There was no evidence to say that the actual remote would go there. When questioned, the representative said, "It's a secret."
Lastly, the representative also confirmed that it is in fact wired, and plugs into the same plug on the remote that the nunchuck plugs into. He elaborated saying, "So it's wired and wireless at the same time." When asked where we would put the remote, he responded with, "I don't know. It could easily rest in your lap."
Second Update: 5/10/2006
A Nintendo representative also confirmed that, as evidenced by the above photo, the classic controller only has one small button on top (as opposed to the two small buttons in previous photos). He said that this was the final design "for now".