We get the enigmatic director of Travis Strikes Again: No More Heroes to answer some questions about the upcoming Switch game.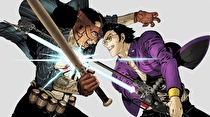 The recent Nindie Spotlight ended with the surprise reveal of Suda51's latest project, a new entry in the No More Heroes series entitled Travis Strikes Again: No More Heroes. Following up on the pair of Wii games, this Switch game twists the series trademark action and pays homage to indie games with a retro game hook. Travis and new villain Badman get sucked into the Death Drive Mk-II and have to complete six different games to escape. So far, the developers of Hotline Miami and the developers of Shovel Knight are confirmed to be working with Suda51 and developer Grasshopper. Who knows what other developers will join up, but as of PAX West 2017, Suda seemed to be actively trying to find other developers.
Travis Strikes Again is due out sometime in 2018, and we had the chance to fire off a few questions to Suda51 about what exactly this new project is.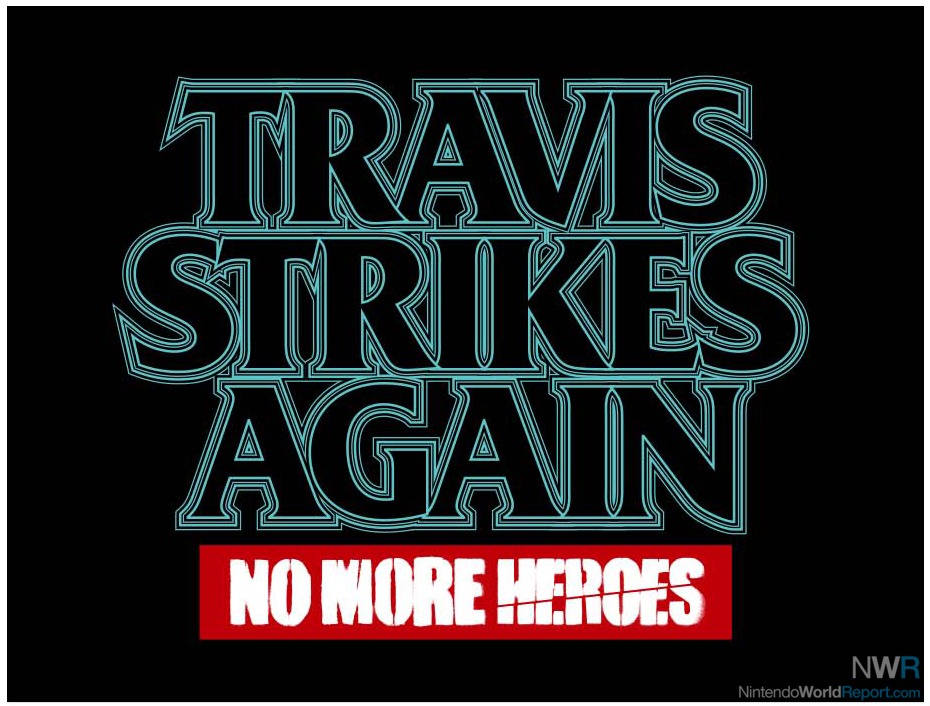 Nintendo World Report (NWR): Will the gameplay only be the six games in the Death Drive Mk-II or will there also be gameplay more similar to the first two No More Heroes games?
Suda51: The six in-game games in Travis Strikes again will comprise most of the main gameplay, but there will also be some elements familiar to those who played the first two games as well. Specifically, Travis' trailer, the save function, customization, things like this, which will feel a lot more like the original two titles.
NWR: What are the most valuable lessons you've learned from collaborating with independent developers on this project so far?
Suda51: I would say that the most valuable lesson I've learned, or rather, had reinforced, would be that staying true to yourself and what you want to create are extremely important. These indie creators with whom I'm collaborating really are amazing people and they've dedicated their lives to creating what they want to create and providing people with fun and enjoyment with their own very personal creations. This is something that I've also always believed in, and something that has been further reinforced working with these amazing creators.
NWR: Regarding scope, do you see this as a smaller scale project or similar in size to previous No More Heroes games?
Suda51: As far as development goes, this is definitely a smaller-scale project than the previous games, as I've scaled back the team from, for example, the 40+ people who were working on Let it Die to a team of only about 15 people, give or take a few, for TSA. As far as the game itself is concerned, while I can't really comment right now on future plans for the title or its own series, I do have hopes that it will become something larger than it seems now, and I'd like everyone to look forward to what we have coming up.
NWR: What made you decide to revisit and take No More Heroes into this new direction after so long instead of creating an original IP?
Suda51: As you can see, there is no number in the title for this game, e.g., "No More Heroes 3", etc. This was completely intentional, as I wanted to distinguish this game as something new and different for Travis. No More Heroes 3 will be a different title, and I feel that this title serves as not only a sort of stepping stone on the path to No More Heroes 3, but also as the beginning of a new adventure and possibly a new series for Travis, while still existing in the same universe as NMH although not a direct sequel. I'd been wanting to revisit Travis and see how he's been doing for years now, as well as to reintroduce him to the newer generation of gamers who may not have had the chance to meet him back during the original run, and with the unveiling of the Nintendo Switch and all its capabilities and features, this felt like the perfect time to do that.
NWR: How long has Travis Strikes Again been in development?
Suda51: The game itself has been in development for just about four months at this point.
NWR: The Nintendo Switch is a system with many control configurations. Meanwhile, the original No More Heroes games utilized the Wii Remote and Nunchuk heavily. How do you plan on accounting for this in Travis Strikes Again? Will motion be involved?
Suda51:There will definitely be motion controls involved, and some of the original mechanics, such as charging the beam katana, etc., will be back in TSA. The Nintendo Switch, much like the Wii back in its day, provides a wealth of cool features and functions, and I definitely want to take as much advantage of them as possible. Also, the game is being made in such a way that it will be possible to play it with only one of the two Joy-Cons, so as for what the second Joy-Con will be for, I'll leave that to your imagination for the moment.