The middleware sets a standard for physics and animation on Nintendo's upcoming console.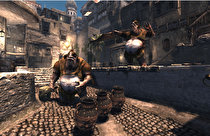 The announcement of an agreement between Nintendo and prominent middleware provider Havok, the terms of which will make the latter's physics and animation technology available to studios developing on the Wii U, came three months before Nintendo provides a closer look at its new console. While Havok has powered some games such as Super Smash Bros. Brawl, the inclusion of their middleware in the default Nintendo development environment is a major coup for the company. We spoke with Dave Gargan, Havok VP of Engineering at this year's Game Developers Conference to learn about the available resources and gauge just what they bring to development on the Wii U.
On the agreement with Nintendo:
"We have a worldwide arrangement with Nintendo, so developers get access to our physics and animation technology, which for us is actually something we've been trying and working for Nintendo to do for a long time. We're really excited about this. And I think it sort of reflects a long partnership that we've had with Nintendo for a series of years.
"[The relationship] started with Wii, which was a platform where we pushed a couple key titles, things like Epic Mickey, for instance, where we had physics and animation included in the title. And, particularly, we had a strong third-party portfolio… So Nintendo were eager to see us—they'd seen our technology and how it… enabled different types of fun gameplay—they were eager to see us work with them on the [Wii U]."
Though Gargan notes that the agreement between Havok and Nintendo is "unrelated" to the latter's license agreement with Autodesk, he admits that "without taking too much of the credit for it, I think we helped open the door for other third-parties [to enter into license with] Nintendo."
Havok engine capabilities:
"So, [in the demo shown] we have physics and animation, but the entire portfolio over time will be available on the platform, including things like the Vision Engine [a multi-platform engine acquired by Havok last year].
"What might be interesting to you is how we've taken our portfolio and integrated [the Vision Engine] with a couple of different types of focus. One type of focus is on making environment more dynamic, and the other focus is on characters, and making really believeable characters.
"Vision is a cross-platform game engine, and it allows artists and programmers to work in a single environment… and create content very quickly."
Gargan spoke about the engine's ability to make environments more dynamic, a development trend he noted. "That's something we're starting to see. There's almost been this progression through games as we pack more and more CPU power, we've been doing more and more interactive environments."
Gargan mentioned that many first-person shooters in the past were "wall-crawlers, where nothing moved and everything was static," and how modern games have increasingly broken down those constraints. "The things that we used to consider static, like walls, are now destructible, where designers want them to be destructible."
In addition to touching on the environmental capabilities of the engine, Gargan emphasized the importance of being able to create believable, well-performing characters, "especially on a platform like Nintendo, where characterization is very important... So, our entire behavior technology allows for these performances to be recreated in games, to make very controllable characters. For instance, you could do things like have [a character] walk sideways, walk backwards..."
Gargan also talked about how the animation suite will allow editing of characters' movements to suit complex environments. "So you have a motion-captured animation of someone jumping over a one-meter high obstacle. You need to be able to edit that animation on the fly so they can jump over a two-meter high obstacle... because the environment's constantly changing.
"I think that's probably the theme that we're starting—or we're continuing—to see, that environments are becoming more dynamic, and that's raising new challenges for animation systems, or for AI systems, or for any of the things where previous technology was all statically based."
While the software comes with several preset character settings, developers can bring in their own motion capture data to the engine to create their own style. "Our entire behavior technology will allow [a motion-captured] performance to be recreated in games, to make very controllable characters."
Havok on the 3DS:
'We've already shipped a title on 3DS [Tom Clancy's Splinter Cell 3D], and that was really pushing [the handheld] to its limits. I think because of the relatively limited capabilities the device has, there isn't a huge demand for [the use of Havok tools]."
Bringing the technology to the Wii U:
Gargan noted that all Wii U developers worldwide will have access to the Havok technology, the same way they would access Nintendo software tools, and that they have many cross-platform developer customers who can now easily add Wii U as an SKU for their projects. (None were explicitly discussed, though Gargan mentioned that several unannounced projects are actively in development).
In regard to the dual screen setup of the Wii U, Gargan stated that "with things like dual screens… most of our products are taken by game developers and then integrated, so dual screen [support] is something they typically worry about, rather than us."
Special considerations for the engine on Wii U:
"The platform has its own unique features, and has its own challenges as well. When we come across any new particular platform, we optimize specifically for some of the advantages that those platforms offer over other platforms, and Wii U has specific advantages that no other platform has, and we optimize directly for those, right down at the level of accessing the hardware.
"I think we'll see things done on the Wii U that we won't see on another platforms… I think people will be genuinely excited with the range of titles they're going to see come out."
The demonstration as presented at GDC can be watched in the following video. The demo shown used CPU-processed physics (as opposed to GPU), which, Gargan said, would be the case when the engine runs on Wii U. More Havok videos can be found on their website.
Interview conducted by Aaron Kaluszka and transcribed by Nate Andrews. Special thanks to Havok and Dave Gargan for the interview!