Let's go back to Kanto!
Pokémon: Let's Go marks the series' fifth trip to the Kanto region, but this game sees the most significant visual upgrade to the region since Pokémon HeartGold and SoulSilver. The visuals aren't the only thing that has changed, however. There are significant gameplay changes that reflect the game's connection to Pokémon Go and the attempt to bring more casual players from the mobile experience to the console game.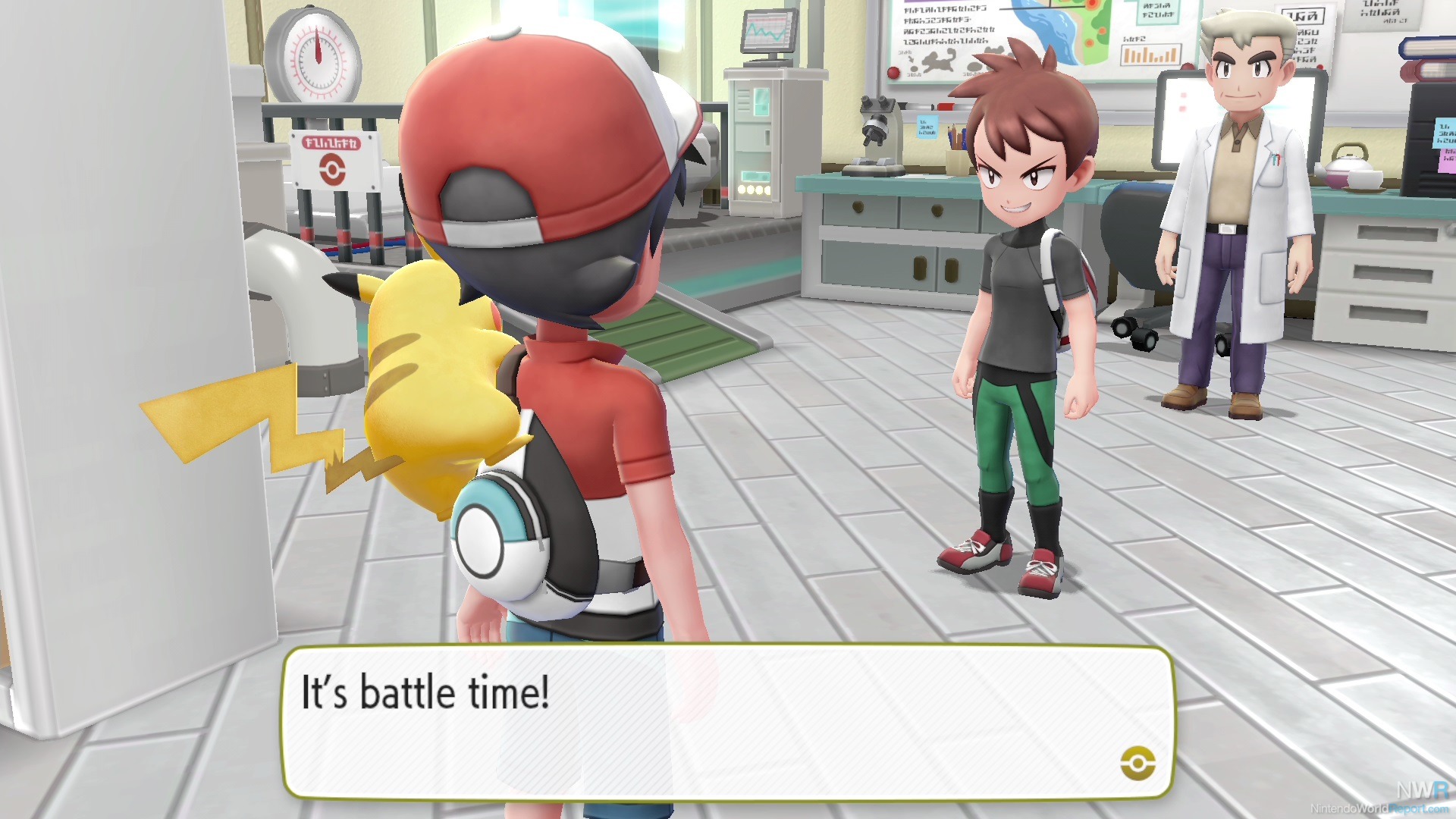 In my brief time with the game, I explored Viridian Forest and had a chance to test out the battle mechanics, which remain largely the same as previous entries in the series, and the catch mechanics which are essentially the same as in Pokémon Go. To enter a battle with a trainer, I either walked into their line of sight or talked to them, and the battles play out as you would expect. I was hoping for a little more visual flare from the attack animations, but that was my only criticism.
Catching Pokémon, on the other hand, is a very different experience in Pokémon: Let's Go. Random battles have been replaced with Pokémon popping up and wandering around in tall grass. By walking into these Pokémon, you initiate a "battle," but there is no actual combat. Instead, you throw berries and Poké Balls at your target just as you would in Pokémon Go. Depending on how efficiently you capture the Pokémon, you are awarded experience points, like you would earn in any other main series Pokémon game. Battles with trainers also award experience points, and there is still an experience bar under your Pokémon's health meter that fills up. Your Pokémon level up, gain new moves, and evolve just like you remember.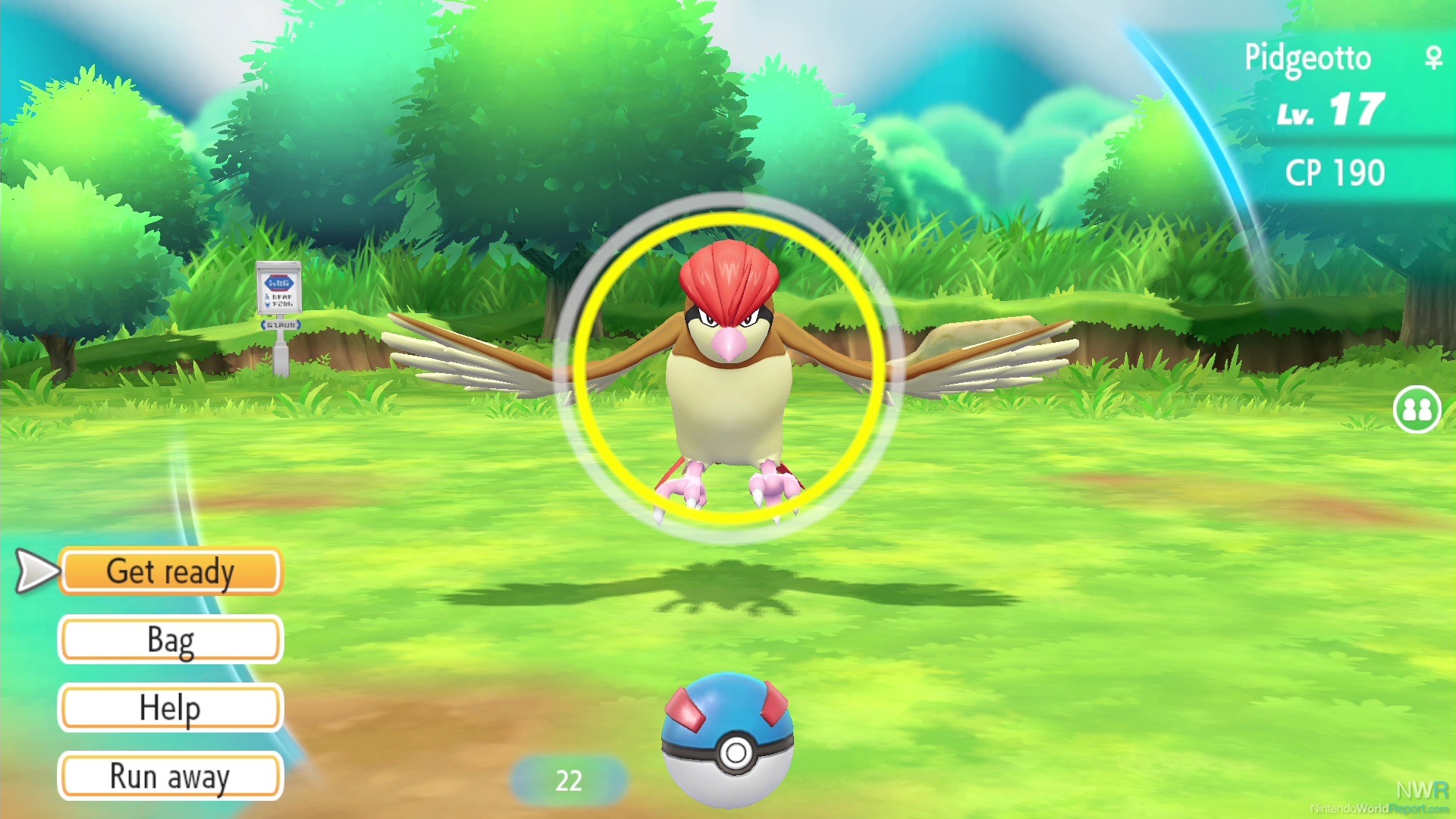 I played the game using the Poké Ball Plus accessory, which is a small Poké Ball-shaped controller that has a single joystick. The device lights up, vibrates, and makes sounds when capturing Pokémon, but it can also be taken with you and function like a Pokémon Go Plus wrist accessory, allowing you to catch Pokémon, record steps, and collect candy in the mobile game. I found the Poké Ball Plus to be a little smaller than I was expecting, and there was a slight learning curve to figuring out how to use the device to accurately throw Poké Balls while trying to capture Pokémon. The device's joystick works well, but I would see myself likely preferring the feel of a joy-con or pro controller to play the game. I was told that the game can be played in handheld mode as well and that the touch screen is not required, so it will be interesting to see how capturing Pokémon works when the Switch isn't docked.
Overall, I came away from my time with the demo feeling good about how the game looks and plays. I've heard the complaints about Pokémon: Let's Go not pushing the graphical capabilities of the Switch, and that may be true. Nonetheless, the parts of the game I saw were vivid and colourful, and the item and menu screens included pixelated potions, Poké Balls, and Pokémon, which were welcome throwbacks to the game's predecessors. I was impressed by how fast I was able to enter Pokémon battles and capture Pokémon. The random battles of past Pokémon games can sometimes be a chore, and I appreciate that I won't have to run back and forth in tall grass for a five-percent chance at finding an Abra. I was also shown the co-op element of the game where a second player can jump in at any time to capture Pokémon and battle trainers with you. Pokémon: Let's Go may not be the new generation that fans were hoping for, but it might just be the reboot that welcomes a new generation of fans to the series. The game is coming out on November 16, and I'm ready to return to Kanto to see it with new eyes and a fresh perspective. More than that, though, I just really want to ride around on an Onix.