Hey, do you like Mario Kart 8? How would you feel about more Mario Kart 8?
Mario Kart 8 is a fine entry in the long running racing franchise. It wasn't exactly my favorite, but it was still quite enjoyable. The tracks were a stunning spectacle and the title played nicely as well. Now long after its original release, Nintendo has decided to bring an updated version of its marquee Wii U title to the Switch. Titled Mario Kart 8 Deluxe, this version tries to bring everything in a single package, while adding some additional bells and whistles.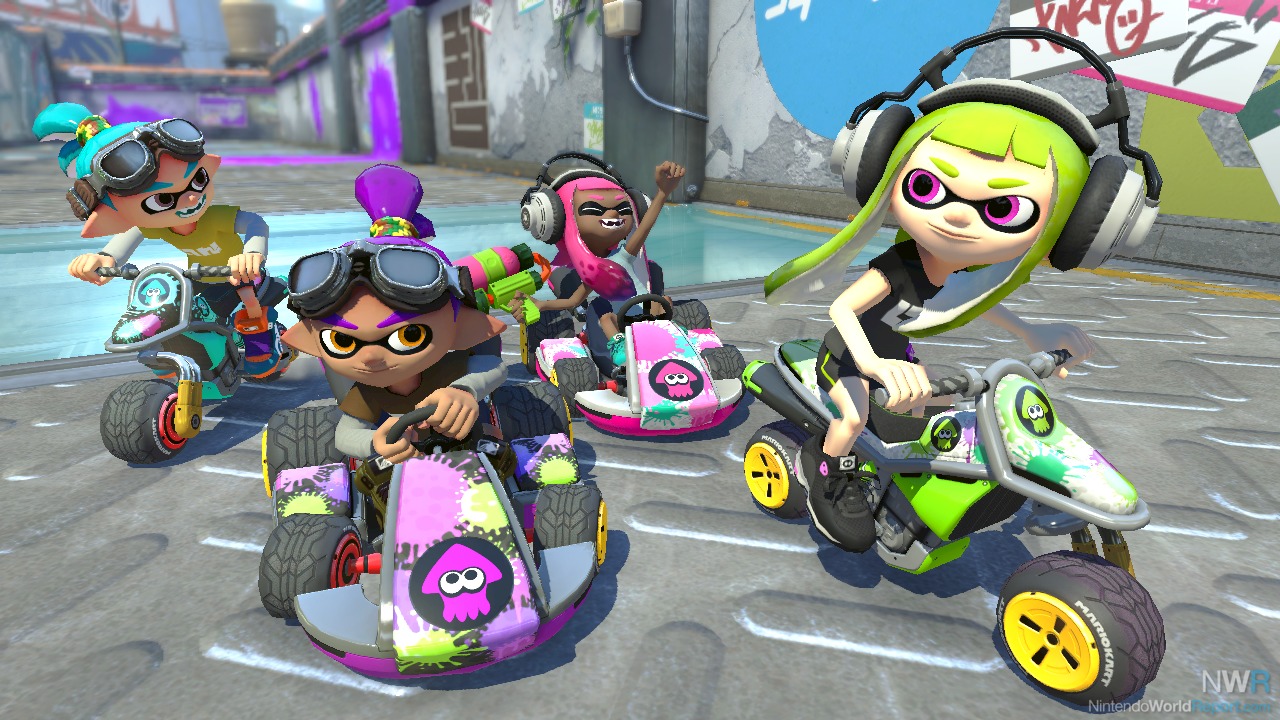 At my local Nintendo Switch event, we could see both four different race tracks (all previously DLC) and two brand new Battle Mode maps. The point with racing was to showcase it in the Switch's handheld mode. We could experience the joy of playing Hyrule Castle, Animal Crossing, Yoshi's Island and Baby Park on the smaller screen. Despite being on that smaller screen, I was quite impressed with how it looked. The tracks and its design were quite vibrant and pleasant to look at. What helped were the controls, which were exactly as you remembered them. So okay, maybe it will feel different with the Joy-Con, but it was still solid fun.
The big question is if this version of Mario Kart 8 will include new racing tracks. People who played the Wii U game and purchased all the downloadable content still need a certain something to keep them going. The new characters and kart parts are a great start though, as King Boo and the Inklings make their Nintendo Switch debut. The little animations for the Inklings in particular are amazing. If you make a jump, they will either turn into a Squid or grab their paint gun for some extra spice. Next to that, there are new or returning items in Mario Kart 8 too. The ability is there to steal items and become invisible with a Boo or make a hop with a Feather for the first time since the Super Nintendo.
The biggest change in this build was the Battle Mode, which was showcased in TV mode. To add even more madness, we were using the Joy-Con in the special wheel grip, which felt quite nice. Both classic modes, Bob-omb Blast and Balloon Battle, were on display. They play exactly as you remember with the added benefit of not being in teams. You fight alone for your own glory until the time expires. It was grand to finally see a proper return of the battle modes in Mario Kart 8, even if it took its sweet time to come.
For the battle modes, there were two stages on offer. First off, we have SNES Battle Course 1. It was mostly your old school map with lanes, ramps and danger at every corner. This was perfect for Bob-omb Blast as you could throw the bomb to the other side and really surprise your opponent. The new map was Splatoon's Urchin Underpass, which was a lovely rendition of it. There were multiple ramps, huge open spaces to throw items in and sharp corridors that required you to stay on your toes. This has the potential to be one of the best inclusions as it has everything I value in a strong battle map. Next to that, it really fits the nature of Balloon Battle, where a sharp eye is absolutely key.
Mario Kart 8 Deluxe is more Mario Kart 8. That is not a bad thing as you are getting all of its great content in one place. This is on top of new characters and a brand new battle mode which was in major demand. My only fear is that we won't have any more fantastic new racing tracks, which is what made the original game such a delight. Only time will tell as we don't know all of its current inclusions.