This adventure is showing some real depth.
Although Nintendo showed a demo of Paper Mario: Sticker Star during their E3 3DS Software Showcase, the game wasn't playable to attendees. During PAX Prime 2012, while on the show floor the game was being demonstrated once again to the public, I was taken behind closed doors to get my hands on Mario's latest paper adventure. Though the demo I got to play was just a portion of what Nintendo showed during the Software Showcase, I did notice a few things in my brief play through.
There's an overworld map very much like what players are used to from Mario Bros. 3 and the New Super Mario Bros. series. While I wasn't told how many areas or different environments there will be, they did have the trademark 1-4, 2-3 type naming convention. Visually, everything has a nice diorama look to it, but the 3D effect on the 3DS XL I played with felt a bit off during my demo so I turned it off.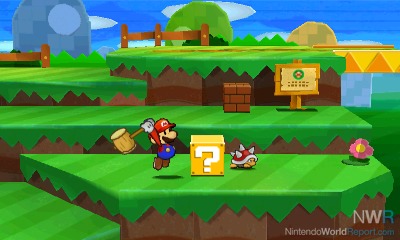 Stickers can be found everywhere in the world and are used for everything: solving puzzles, getting into new areas, and most importantly, combat. While Super Paper Mario ditched the turn based combat, in Paper Mario: Sticker Star it's back and your moves and actions are controlled by choosing stickers from your sticker book. Jumps, line jumps (jumping down a line of enemies), shells and flower powers are just some of the stickers you'll pick up and utilize in battle. After you choose the sticker attack you want, you're asked to confirm your choice of attack, and then the action battle sequence begins. There's a break between choosing the sticker and the attack beginning, which is a good thing. Just like in previous turn-based Paper Mario titles, after the attack is initiated you can increase the intensity of your attack and block enemy attacks by timing your button presses. It all feels familiar and great, and while we've only seen some stock Mario moves, I'm curious to see what new elements they decide to drop into the mix.
Stickers are also used to solve puzzles, and you'll encounter different real-world things in your adventures, such as an electric fan. By "stickerizing" these items, or turning them into stickers, you can use them to solve puzzles. For example, by using a giant electric fan to blow enough wind to power a windmill, you can enter new areas. Unfortunately, I didn't get to see any new uses of "stickerizing" but I get the feeling that it will be one of the main ways of progressing through the game.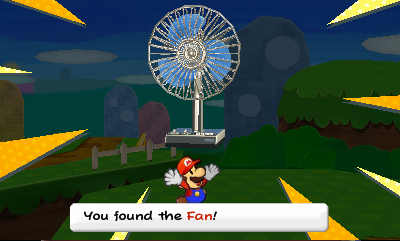 Sadly, after turning on the fan and powering up the windmill and going inside (which included a number puzzle that I didn't have the answer for), the demo was over. Just a few battles, a puzzle solved and kaput; an all too brief taste of Paper Mario: Sticker Star and I'm hungry for more.