Two sets of DLC in less than a week for the 3DS in Japan? Oh my!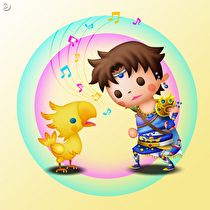 Theatrhythm Final Fantasy released in Japan recently and along with it the second batch of downloadable content on the Nintendo Network which came in the form of downloadable songs. This is the second set of DLC to be released on the 3DS and it all happened in a span of just a few days. For the most recent Theatrhythm, there are a total of eight songs (see a full list of the songs here) available to purchase and for a limited time, they are priced at 100 yen (down from the 150 yen price tag they were originally announced at)! While Daan Koopman gave you an extensive post about his experience with the the DLC from Tobidasu Puricula Kiradeco Revolution, I'm going to let you know what to expect from the most recent release from Square Enix in Japan.
Accessing the DLC works very similarly to Tobidasu Puricula. From the main title screen, there is a special section clearly labeled to access the downloadable songs. After touching this, the game scans your 3DS for the SD card and then sends you to a brief loading screen before bringing up the full list of available songs. By clicking on the song, the option to purchase it appears on the lower right hand side of the touch screen. After touching this button, an eShop overlay initiates and if you have enough funds, you are given the details and asked to confirm your purchase. From there, your song begins to download and you can see a progress bar indicating what percentage of the file is downloaded. During the download process, you are unable to suspend the download or close the system. However, with most of the files between 35-40 blocks, the downloads are typically done in around 15 seconds. The files that you download can only be played in the Challenge mode of the game and cannot be used in the story mode.
The download process for the DLC for Theatrhythm Final Fantasy (and for Tobidasu Puricula) is a great step forward for Nintendo. Transactions are fast and hassle free, and you are able to get your content in a matter of seconds. Unfortunately, the only thing I did not get to try directly from this section of the game was adding more funds to my account. Based on Daan's impressions of Tobidasu Puricula and considering how similar the DLC works for both games, I would imagine adding funds is quick and painless.