Battle and online modes are the best they've been.
Following my previous run with Mario Kart 7, I had the chance to check out the battle and online modes of Mario Kart 7 at Nintendo's offices. The short version? Both modes see welcome improvements over the Wii iteration.
The three new battle mode courses are quite different from each other. Honey Bee Hive, based on the hive from Mario Galaxy, is made up of interconnected hexagonal rooms. The hive was my least favorite battle course since the design means you can't drive around that freely, and you can't really hide out in a room due to the map on the bottom screen giving away your location. Sherbet Rink is an ice-covered wide-open battlefield full of bumpers. It's the best course for in-your-face craziness and massive numbers of bouncing shells. Wuhu Town is a sprawling map with multiple levels. The old battle maps play a bit differently thanks to the new kart abilities -- you can hover over the lava in Big Donut using your glider, for instance.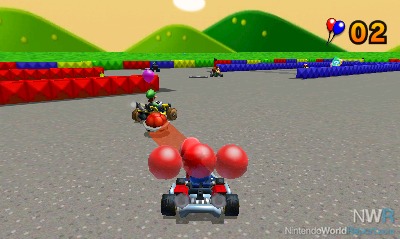 Balloon battle is time limited and point based. Losing all your balloons leads to losing two points. The other mode, Coin Runners where players try to collect as many coins as they can while still avoiding attacks, is a bit more strategic. The biggest difference between Mario Kart 7 and Mario Kart Wii's battle modes is that players are no longer forced onto teams, so it's up to eight players for themselves.
The addition of the Leaf and Fire Flower powers are especially nice in battle matches since you can go crazy with a barrage of fireballs or tail swipes. Also, the Bob-ombs now walk around after being tossed. While the lack of survival mode may disappoint some, Mario Kart 7's battle modes are the best battle mode since the original two games. Since they're so fun, the biggest disappointment is simply the limited number of courses (three new and three returning).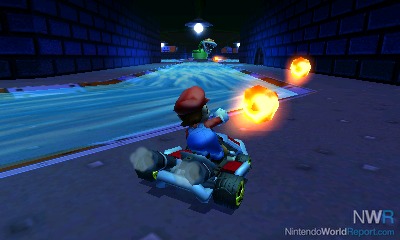 Online communities are the major welcome addition to Mario Kart's online infrastructure despite being somewhat limited. Players can setup and join rooms by exchanging group codes, kind of like friend codes, but just for races. Room options include the type of race or battle, and which items, racers, and kart parts are available. The rules for these rooms are made permanent upon setup. There are no moderators -- once you're in, you're in. Chat is limited to predefined phrases, much like in Mario Kart Wii. Outside of communities, players are automatically matched based on skill level.
Mario Kart 7 makes heavy use of StreetPass and SpotPass features, and race ghosts are exchanged in this manner. StreetPassing will also exchange records such as win/loss ratio and the number of coins collected. StreetPassed Miis will appear in Grand Prix mode, and the AI will attempt to mimic their driving style. Specific groups and ghosts will also be highlighted over SpotPass.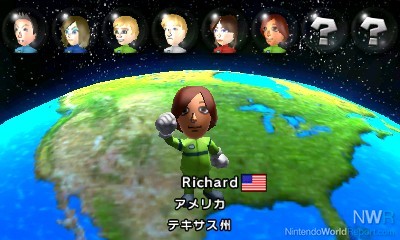 I also had a chance to check out the remainder of new race courses. There are a number of daring shortcuts scattered throughout the new designs. One notable track, Neo Bowser City, is an interesting fusion of the city levels and Bowser levels of previous games. Piranha Plant Slide piles on the nostalgia and is like driving through the original Super Mario Bros., but in 3D. Bowser's Castle features lava pouring right through the water potions of the track. Rainbow Road is as gorgeous as ever. This time, the course is a single long lap, broken into three parts like Wuhu Loop. This time, you're not confined to the rainbow, but will drive over a ringed-planet and a moon, complete with low gravity. SNES Rainbow Road also returns, a welcome addition since it is much shorter and more difficult to navigate than its modern kindred.
From everything I've seen, Mario Kart 7's multiplayer experience, both online and offline is possibly the best it has ever been. With Nintendo looking back to earlier games in the series and reviving what worked in the past in addition to making progress in smoothing the online experience, Mario Kart 7 will be the must-own multiplayer game to own on 3DS.