Is it just Mario Kart DS with new gimmicks, or something more?
For the most part, the series has stuck close to its origins in Super Mario Kart when it comes to the gameplay that has served it so well. Nips and tucks as we move from console generation to generation are one thing, but kites and submarines? You'd be forgiven for wondering whether this is a step too far beyond what is expected for Mario Kart.
Hang-gliders, propellers, plus whatever other contraptions and gizmos Nintendo include in the final game are deployed automatically with no input from you. Drive off a particularly high ledge or boost off a jump and the hang-glider will pop out, allowing you to gently swoop down to earth using the Circle Pad to guide your descent. Propellers work in the same way: drive into water and the propeller will pop out from behind you and give you a push through the depths. At first glance these additions seem merely cosmetic but as you play it becomes apparent that they will add to your racing tactics. When you are hang-gliding you can travel quite far down the course if your flying skills are with you on the day, using that opportunity to scout out the road ahead for shortcuts, or you could just as easily push yourself into a nose dive to get back to the real racing.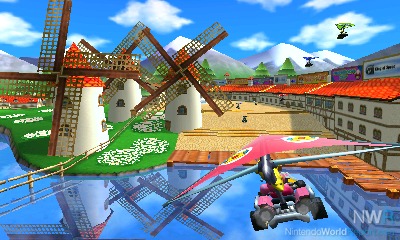 Propellers also give you more scope than first appears. On one of the demo courses the track narrowed down to a thin Y-shaped junction with a big pool of water beyond. Your Mario Kart racing instincts scream at you to avoid falling into the water because you'll have fallen out of the track and be dumped unceremoniously back onto the course by Lakitu with the lengthy time delay that brings, but as I head towards this junction I get hit from behind by a red shell and spin out over the edge and straight into the water. Grumbles aplenty from me but rather than seeing the screen fade to black, I recovered from the shell hit straight away, the propeller appeared and I just kept on driving through the pool, up the side and back to rejoin the course further ahead. It completely changes the scope of the track and how you approach it.
The demo had a mini grand prix with three races that provide the perfect way to show off the new additions. The first track takes you through what would appear to be a mountainous region of the mushroom kingdom. It's all big sweeping curves with ramps leading to boost-assisted jumps, which is great for demonstrating the hang-glider in all its glory. You leap off the ramp and out pops the hang-glider and you can then glide up, down and to the left or right, dodging overhanging pipes as you go. I must admit that I did wonder just how this was going to fit in within the Mario Kart 'feel' but after the first lap I was already on my way to being sure that this new gameplay mechanic is only going to help add to the racing experience. Track two takes you underground through a network of caves with pools of water dotted around the course , clamshells and weeds blocking your way as you power through the water. The final course cuts through Donkey Kong's jungle with some familiar faces from DK's recent Wii outing making an appearance.
The game itself looks as beautiful as you'd expect from a Nintendo release. All the characters look great, enhanced versions of the Mario Kart DS models. The courses I saw were all beautifully rendered with great backdrops. The 3D really is the best I've seen to date on the 3DS. The immersion it gives you as you swerve around obstacles and career through the tracks is second to none.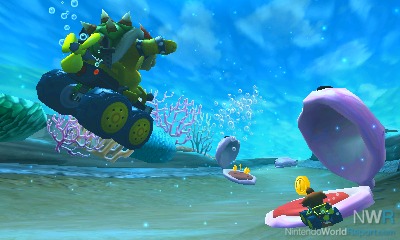 A new feature is the kart customisation screen. You choose your character (eight were available in the demo), then the main body of your kart, which from the demo we played offered a standard kart, a Yoshi egg and the frame of a truck. You're then given a choice of wheels: small, standard or large. In all honesty, the racers amongst us are only ever to going to plump for the standard wheels. The small trolley-like wheels are too jittery and sensitive and the big truck wheels make navigating some of the tracks a real lumbering chore. Young ones will have a field day mixing up all the different variations for a kart of their choice but I for one will be sticking with the tried and tested standard kart.
Drifting is present and correct but to begin with it feels loose and floaty on 3DS using the Circle Pad (D pad control is not an option). Decades spent waggling my thumb over a D pad meant that it took me a little while to get to grips with how the 3DS handles but you'll quickly get used to it. Something else that makes a return from 'ye good old days' (and we're surprised it's taken so long to return) is coin collecting, with Mario's favourite collectibles laid out liberally throughout courses. Keep on grabbing these and you'll get a speed boost. All the items are present and correct and from what we could see there were no new ones, although we'd be surprised if there aren't one or two more in the final game.
A few people are going to be doubtful of the new hang-glider/propeller mechanics, but I feel that their inclusion will be a small but integral part of this latest update. It's just enough to help keep the series feeling fresh, but it's not too much of a departure to cause any real concern. Otherwise, the game is pretty much what we've come to expect over the years. Expertly balanced racing with gorgeous graphics and great use of 3D (the first time another racer squirts squid ink in your face it'll scare the daylights out of you). It's normally a negative to find out that a game is just 'more of the same' but when it comes to Mario Kart that's just what I want!