Those are some cute dogs. Plus cats.
A rather short and simple demo of the next iteration of Nintendogs was shown at Nintendo World. As you'd expect, many of the other people in the line next to me were parents with their kids, who couldn't wait to stroke a new virtual puppy (or kitten).
As a long-since-retired Nintendog owner (R.I.P. Max), I instantly recognised the interface, which aside from some minor tweaks, is an exact copy of the original game.
Before playing this, I wondered how they would get around the fact that the animals can only be displayed on the top 3D screen, as having them on the regular 2D touch screen would kind of ruin the whole point of it being on the 3DS. The answer was simple, a real time silhouette of your pet is displayed; when touched, a virtual hand strokes the corresponding point on the animal on the 3D screen.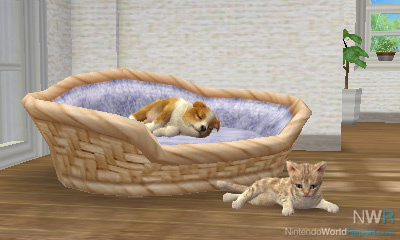 Three dog/cat pairs were available to choose from in this demo, I went for the Husky/stripy ginger cat team. As in the previous games, you click on the pet you want to interact with, then click the hand icon to call them over. First, I called over my husky, (adorable and awesome) and I gave him a good stroking, which he loved. Animation has improved somewhat, as have the textures; there was a noticeable fluffiness to the puppy that wasn't in the DS version. After throwing a ball and a boomerang around for him, I moved onto the cat.
Okay, reality check here: as a cat and dog owner, I must say this next aspect of Nintendogs + Cats is highly unrealistic. I clicked the cat and called him over, where he immediately came running towards me and sat down. How many cats do you know that do that?
Anyway, interaction was handled in the same way and the animations were suitable for a cat. My husky friend also sniffed the cat while I was playing with it. After play time was over, I decided to give them a quick make over; I found a nice straw hat for the dog and a great flower for the cat.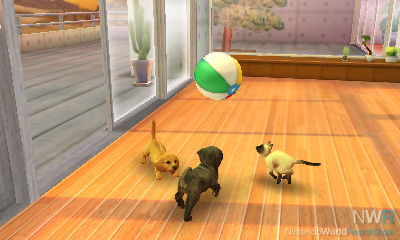 One final feature that the Nintendo rep was keen to point out to me was face-licking. If you move your face close to the screen, the 3DS internal camera recognises this and your puppy will begin to lick your face. Together with the 3D saliva spilling out the screen, I must say it was quite a convincing effect.
In my last few minutes with the game, I threw a tennis ball around and watched the animals interact together playfully; it was all completely adorable and sure to be popular with the Nintendogs DS audience.