Dive into 3D, bad puns.
Steel Diver was one of the first games Nintendo announced for the 3DS. The game puts you at the controls of an attack submarine, and charges you with the task of navigating underwater caves, avoiding hazards and depth charges, and sinking enemy surface ships.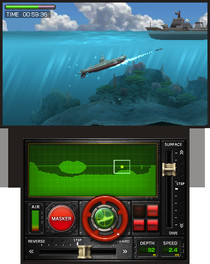 Shown from the side perspective, your submarine is set apart from the environment by both background art and foreground boundaries. The 3D experience didn't add a whole lot to the game in this form. The game graphics also look quite primitive.
To navigate the hazards, and destroy your targets, you control the submarine via three handles on the touch screen. One controls the velocity, one the angle your submarine is pointed, and the third controls your depth. A button on the touch screen fired your torpedoes.
The game is obviously early, but at the moment doesn't feel very tight. The action is slow and the gameplay isn't all that enticing. It will need a lot of work if this is going to be a retail release.