Launch day thoughts on Picross 3D.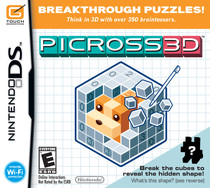 It looks rather unassuming, as the cover features a square cube broken down into smaller segments, being broken away to reveal a giant pixel dog. However, the game is packed to the punch with hundreds of addictive puzzles, as well as an element that I think will be discovered as a visual strain of crack in the coming months.
Possible the most addicting aspect of Picross 3D is that you never know what you're making. The levels aren't broken down into themes – the only hint you get is a themed, muted background which I honestly didn't notice for the first few hours because I was so focused on the game itself. When you do clear the pieces and uncover the shape underneath, you usually don't know what it is until they color it in, label it, and give it a cute little animation. But when they get to that point, it's so worth it and you often want to facepalm yourself in hindsight.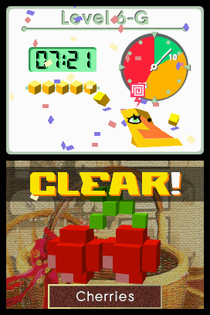 Another part of the game that works for it is the stars. Stars are awarded like this: one star for finishing within the yellow time, two stars for finishing within the green time, and an additional star if you finish with no mistakes. The most you can get is three stars. This becomes important because at the end of each level are two unlockable levels that you need to earn stars to unlock. The silver level is generally easy to unlock, but I found myself redoing levels to unlock the gold. This habit has turned me into restarting puzzles completely with the first error I make.
Finally, the most addictive part of this puzzle game is the fact that it makes you feel rather smart. I am as of now embarking on my final week of classes in undergrad, and all I did this weekend was play Picross 3D because, well, it was kind of educational. I wasn't running across the screen jumping from platform to platform, or shooting enemies while they're flying at me. I was using logic, reason, math, and spatial understanding to create things that weren't there in the first place.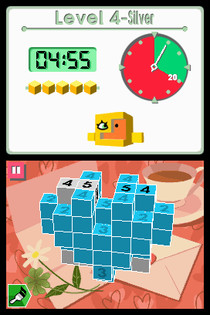 I highly recommend Picross 3D to everyone. It's a highly accessible "learning" game that doesn't know it's a learning game. I also recommend that if you live with someone who also plays DS, just buy two copies because you'll spend your time fighting over playing or jealous that the other one got to it before you did (This really happened - Neal).
Picross 3D is now in stores everywhere for $19.99, and it is totally awesome.