Justin reviews a book that takes a deep look back at the golden age of Nintendo merchandising.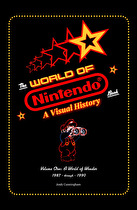 One day while surfing the web I stumbled upon a link to a website for The World of Nintendo - A Visual History. Upon first glance it just seemed too good to be true. The author, Andy Cunningham, claimed to be putting the finishing touches on this largely visual book that appeared to have a plethora of Nintendo merchandising pictures and history. I was a bit skeptical at first, but took my chances. When I got the signed copy in the mail I was blown away.
The World of Nintendo - A Visual History Volume One: A World of Wonder immediately appeared to exceed all expectations. While the book is largely a visual spectacle, it is also filled with a fair amount of text detailing the deep history of Nintendo of America entering the retail merchandising market, which helped lead to their success as a dominant market leader in the video games space in North America between 1987 through 1990.
There are stories included in here I hadn't yet heard, and the volume goes deeper into the details about the people and history behind the merchandising scenes at Nintendo of America. I'm very impressed with Cunningham's research into NES Merchandising Inc. (NMI), a subsidiary of Nintendo of America I've heard about but didn't know the unique history behind. It's a fascinating read and one Nintendo researchers will have to look at more deeply in order to fully understand how Nintendo marketed their products back when they had an iron grip on the gaming market. Some of the details revealed here behind the crazy Nintendo retail merchandising machine are definitely partially responsible for the success of NOA in this space. The book wraps by also taking a brief look at how some of these NMI innovations were used in Europe and in Mexico.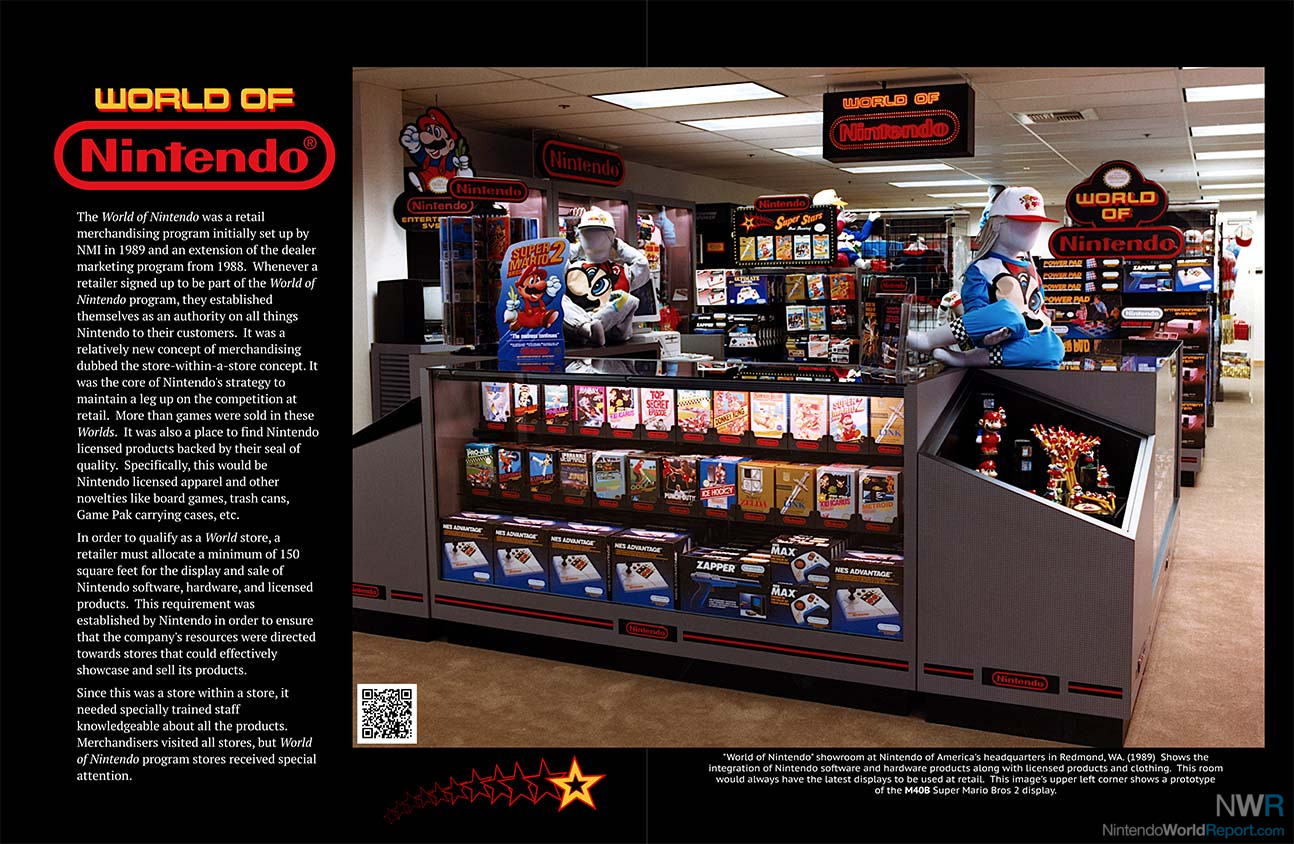 Cunningham doesn't just go into the basic history behind NMI either; he manages to take a deep look at how merchandisers worked with and rewarded stores, information on corporate training and rewards, and much more. I'm also happy to see lots of detailed information and many pictures covering the various displays that were seen within retail stores during the time. Even my M40A World of Nintendo Logo Hang Display is seen here! I'm lucky to own even a small part of Nintendo history from this era.
The main star of this book is definitely the vast number of pictures taking up large spaces, or even entire pages. It's truly remarkable. Andy has managed to take me back to a time that has lived on in my memory but has lost all tangibility, that is, until now. I remember a few times in my youth seeing some of the World of Nintendo retail spaces, pretty sure at a Sears store in a local mall. As a very young Nintendo fan it really blew me away. Looking back over these pages brings a tear to my eye as I can once again relive those glory days as a youth looking on in wonder at the beautiful Nintendo retail spaces I will probably never be fortunate enough to see again in person. This is the closest I'll likely ever get to returning to this retail heaven.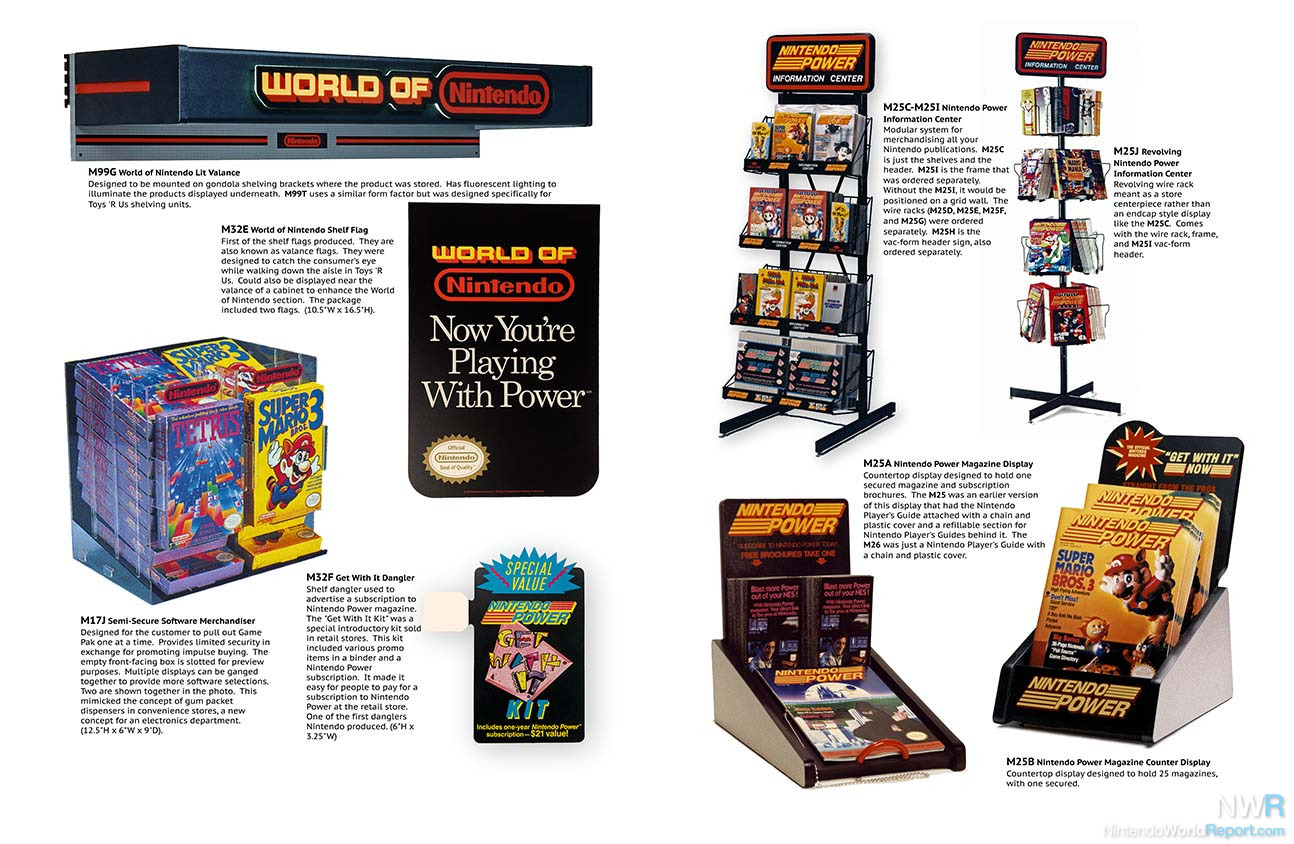 Also scattered throughout the book are QR codes that can be scanned. These codes bring readers to the World of Nintendo book site that then redirects to unlisted YouTube videos showing off various things related to the information found in the book. These videos range from news reports, internal Nintendo videos, awards and training seminars, info on how to install displays, behind the scenes looks at Nintendo, and more. Some of these videos I have come across before on my own, but the vast majority are new to me and very exciting.
My only real issue with the book is that the QR code videos aren't as permanent as the book itself, and I really wish Cunningham allowed for those that purchased the book to download a package with all these videos with the page numbers linked to each video for preservation purposes. It would be a shame if these carefully curated videos were lost to time. Otherwise they are a delight, but I can understand some people finding a few of them boring. That said, I sat through them all except for a few I'd seen already.
Overall, The World of Nintendo Book - A Visual History Volume One: A World of Wonder gets my highest recommendation. The book is filled with valuable information and the pictures alone make it a great addition to any Nintendo coffee table book collection. This is one to hold on to, and I'm really looking forward to the promised Volume 2 coming in the future. Those interested can visit the official book site for ordering information.