Justin samples some Nintendo inspired treats.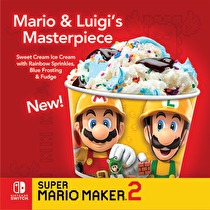 Cold Stone Creamery had a Nintendo promotion throughout locations in the United States. The promotion included a Mario & Luigi inspired Masterpiece ice cream dish and a Mario Kart Rainbow Sprinkle Road cake. I was able to digest both items for an unofficial review.
Before I begin I want to say this was my first time actually getting anything from Cold Stone. I walked in one once, and was in shock at the somewhat high price for what I'd be getting, and left. It took a Nintendo promotion to actually get me to purchase something, and I actually wasn't disappointed.
First, I tried the Mario & Luigi's Masterpiece ice cream dish, which appeared to be available in three different sizes. This recipe included sweet cream ice cream, rainbow sprinkles, blue frosting, and fudge. Each treat was served in one of three collectible cardboard ice cream dishes. The different options available were based on Super Mario Maker 2, Mario Kart 8 Deluxe, and Yoshi's Crafted World. When purchasing, you should also receive a matching scratch card for your cup that includes a redeemable code for My Nintendo Platinum coins. These coins are actually not that impressive if you've checked out Nintendo's reward program, but it's better than nothing.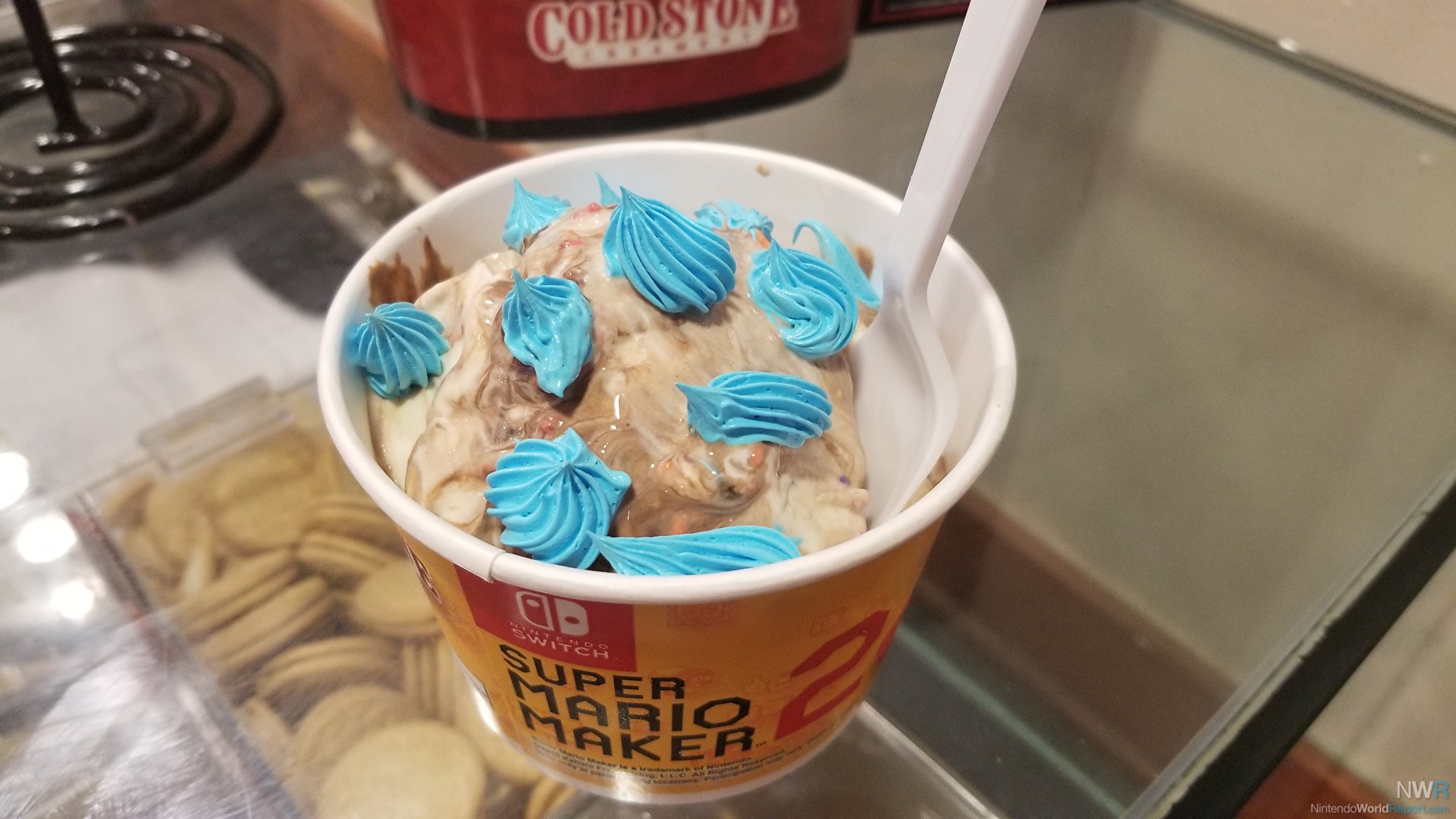 The first thing I noticed with the Mario & Luigi's Masterpiece is how the ice cream in my cup didn't look even close to the advertisement. The colors weren't the same as it seemed even more mixed together than the promotional image. That said, it was delicious and I highly recommend it. The blue frosting seemed to have a cake like taste and the chocolate fudge was definitely a highlight.
The second item I ordered, and took home, was the Mario Kart inspired caked called Rainbow Sprinkle Road. The cake, available in two sizes, is filled with yellow cake, sweet cream ice cream, rainbow sprinkles, and is wrapped in a "fluffy" blue frosting. I opted to order the larger version. On top of the cake are three cake toppers, Mario in a kart, Luigi in a kart, and a very thin plastic set of flags. These karts seem somewhat cheaply made, but can be used as toys later on. I did, however, find it annoying to clean off the frosting and remove the sprinkles. Additionally, you may think the flags are generic but they aren't. There is some Nintendo copyright information written on the part that sticks into the cake. The Cold Stone logo seen in pictures isn't actually a cake topper and is an edible sugar piece. At least after eating it, I hope it was! The cake toppers are placed on a Rainbow Road of sprinkles which is a nice touch and helps complete the official theme.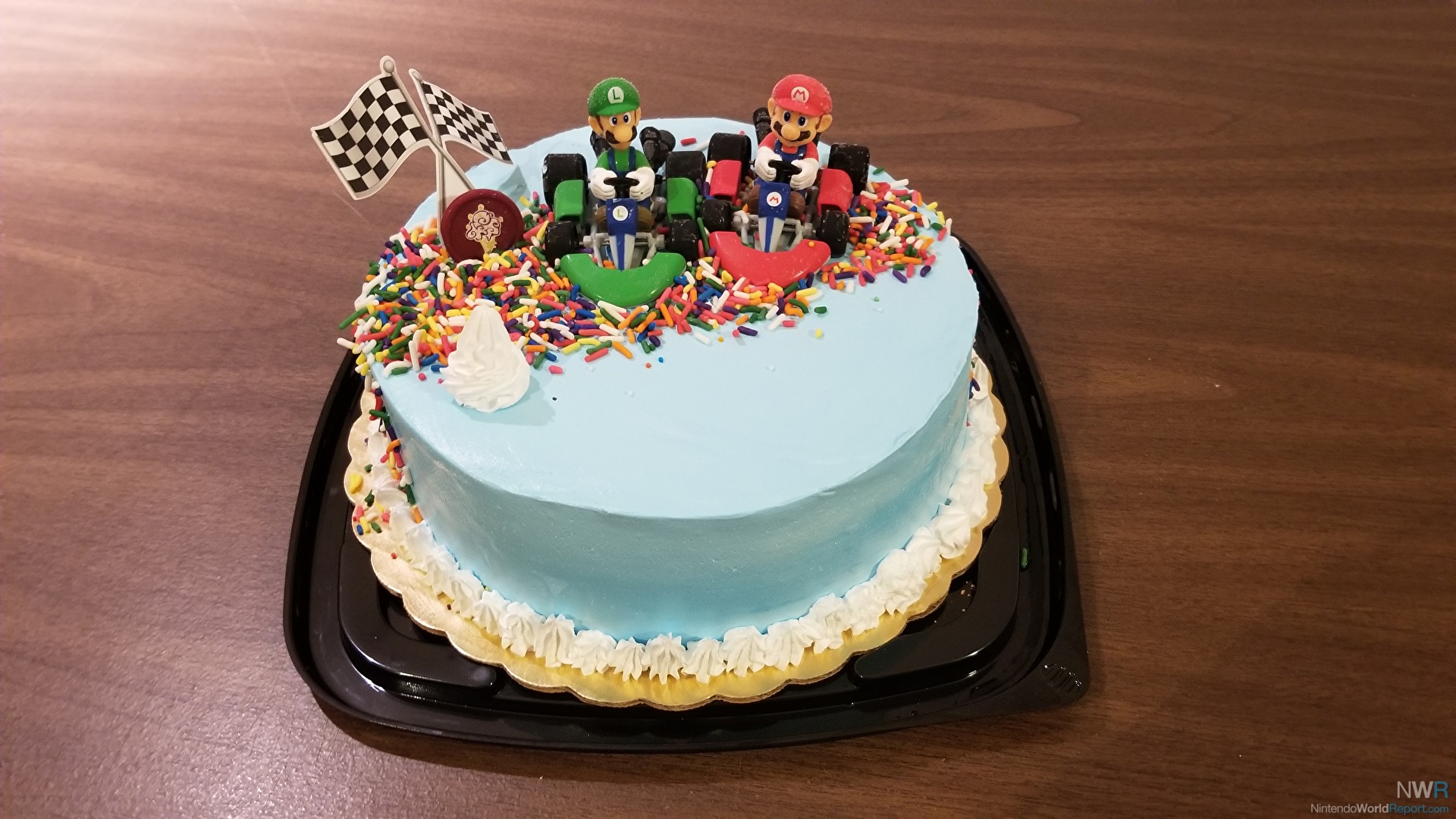 Much like the first item I tasted, I found the cake to be really tasty. The actual yellow cake is a wonderful compliment to the sweet cream ice cream, and the sprinkles are good too. The frosting is pretty sweet as well. The highlight here is easily the combination of actual cake and ice cream which seems to be missing in most ice cream cakes. That said, it may have benefited from the addition of chocolate fudge that was found in the Mario & Luigi's Masterpiece. In any case, I still think it was very delicious and enjoyed slowly eating the cake with my family over the course of a week.
Overall, the Nintendo Cold Stone Creamery promotion is a fun one and really gave Nintendo fans a reason to stop into the shop. The only warning I can issue is that Cold Stone isn't the place to go on a budget. But the quality seemed great and Nintendo fans were given added incentives to make a purchase. Collectors will be happy with the promotional items like the cake toppers and My Nintendo Platinum Points scratch cards. For the more insane collectors like myself, the disposable ice cream dishes also made a trip to the store worth it.