At heart, we're all secretly Black Eagles.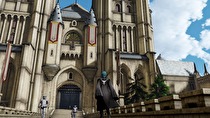 We're about two weeks out from Fire Emblem: Three Houses, and there's a lot of people who have to make a very difficult choice. If the developers aren't exaggerating - and based on some conversations with our reviewer, they're not - you're going to be dealing with the house and its lord for upwards of 80 hours.
So who do you pick?
If you're still on the fence, we've prepared a quiz that should help make the decision a little clearer. Keep track of your answers as you go.
Question 1: Your house leader will inevitably be added to Smash Bros, either as Ultimate DLC or in a sequel. Aside from a different weapon, what do they bring to the table?
A whole bunch of memes about being upside down
Another dark haired pretty boy
An original female Fire Emblem character
I'm taking my talents to Playstation All Stars Battle Royale 2
Q2: What's your reaction upon winning something?
"How the hell did THAT happen?"
"Hmph. Inevitable."
"Good job, everyone."
I am a member of the 2019 Toronto Blue Jays and therefore do not understand the question
Q3: Who is the greatest tactician in the Fire Emblem universe?
Mark
Soren
Robin
Kris
Q4: When you hear "Linhardt", what immediately comes to mind?
A person who seems nice
An annoying pest
A loyal soldier
Those two people that are responsible for like, 2000 orbs in Fire Emblem Heroes
Q5: Which path did (or would) you choose in Fire Emblem Fates?
Birthright, because I wanted to get through a story
Conquest, because it's right there in the name
Revelations, because I wanted to have all of the characters
The Japanese version, so I could touch faces
Q6: In Pokémon, I usually pick (blank) as my starter.
The Grass type
The Fire type
The Water type
Agumon
Q7: I took one of these quizzes before and the sorting hat said my Hogwarts house was...
Hufflepuff
Gryffindor
Ravenclaw
Walking up to a line of book purchasers and yelling the infamous book 6 spoiler
Q8: I skipped out on the limited edition for Three Houses because...
I accidentally bled out from the pins that came with Shadows of Valentia's limited edition
Why would I spend any more on this game than I have to?
Only comes with a sound selection instead of the entire OST
I own at least one Halo cat helmet and I'm still paying it off
Q9: How would you describe your combat style?
Snipe with arrows
Put someone's eye out with a lance
Magic is everything
Ready... set... RUN AWAY!!!
Q10: Byleth (the teacher) is a sword user. How do you want to relate to them?
Just want to hang out with them
I need to dominate them
I'll take their advice
Rule 34
If you mostly answered A: You're pretty laid back, and want to just have fun. Claude's Golden Deer await.
If you mostly answered B: Dmitri wants YOU to join the Blue Lions, because you're a hardass and have a bit of a hero complex.
If you mostly answered C: Edelgard would like to welcome you to the nest of the Black Eagles. You're loyal, and maybe a little depressed.
If you mostly answered D: Unfortunately, Langrisser is coming to Switch next year. Maybe that's more your speed.