With help from our friends, we laid down a bold list of our favorite 2D Marios.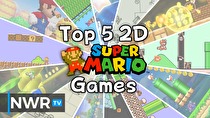 Nintendo's console dominance began with 2D Mario and with the exception of a late '90s 3D-influenced breather, 2D Mario has been a staple of Nintendo's console and handheld libraries for more than 30 years. From Super Mario Bros. to Super Mario Run, Mario (and most of the time Luigi) jumps around, stomping Goombas, defeating Bowser, and saving Peach. We took it upon ourselves to rank our favorite 2D Mario adventures with a little help from our Patrons (which you can be a part of by laying down as little as $1 a month to help us craft these lists and also get exclusive content you won't find anywhere else). Our Top 2D Mario List boils down to what you'd expect, but we'll keep some element of surprise before we get there.
Minor programming note: yes - Yoshi's Island is considered by many, including Shigeru Miyamoto, to be a sequel to Super Mario World. However, for the purposes of this poll, we made the call to not include it. We love Yoshi's Island, but it's the start of a radical new spin-off series in our eyes. Likewise Super Mario Land 3 isn't in the mix because of the same reasons. Finally, any port or remake was included with its original, so the benefits of the Super Mario Advance versions were counted in with the originals.
Be sure to check the video for more details, but here's the list for your debating desires.
13. Super Mario Run
12. Super Mario Bros. 2 (Japan)
11. Super Mario Land
10. New Super Mario Bros.
9. Super Mario Bros. 2 (USA)
8. New Super Mario Bros. 2
7. New Super Luigi U
6. New Super Mario Bros. Wii
5. Super Mario Land 2
4. Super Mario Bros.
3. New Super Mario Bros. U
2. Super Mario Bros. 3
1. Super Mario World