A nice chat with a nice chap.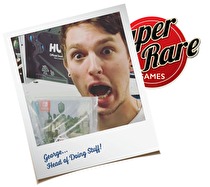 Nintendo World Report got to sit down and converse with George Perkins, the official "Head Of Doing Stuff" for the relatively new physical game publisher Super Rare Games (SRG). As a very curious bunch of indie lovers, we were delighted to ask a few questions and find out a little bit more about this new venture George is heading up.
NWR: First off, as for actually finding and deciding which games to publish, do you folks have a team of people playing indies looking for the right fit or do you field requests and then explore if that game would be good for SRG?
SRG: Games come from a few sources! A lot of the games we sign come from the community. I spend a lot of time in the collecting communities and see what releases they want from us. Internally, we are a very small team so I'm the guy playing the games and seeing what will be a good fit for us. Games are generally a very subjective art and what people see as a good game can vary greatly. Because of this, I do make sure that what we sign isn't just the games I love! Its important to us that we have a very diverse set of games in our collection and thats where the community engagement comes in!
NWR: Are publishers usually on board to work with you for a physical release or do some offer some push back?
SRG :What we do as a service is very much beneficial for any indie developer or publisher so we very rarely see any pushback. Sometimes companies would rather pursue a mass market, retail release but thats the only situation where someone wouldn't want to work with us. We take care of every single aspect of the release and also fund the whole operation. Because of this, there is no risk and a pretty high reward from working with us!
NWR: How longs the process from deciding a game will get a physical release until it's shipped?
SRG: Taking our 5th release as an example. It took about 2 months to go from initial conversions to having the game on the shelves of the fans. At the start, it was quite quick and I reckon 3 months from signing, the game would have been shipped. Its changed quite a lot recently as we are pre-planning the next year of releases and now it takes a bit longer for the game to be released by us - this is mainly to do with us becoming much more efficient as a company and signing games way in advance of the digital release.
NWR: What's the size of the staff at Super Rare Games?
SRG: There are 4 key members, including myself, who work on the every-day runnings of the company. We then have about 10-20 part-time staff who work in the shipping department. These are mainly people who come in 1-2 days a week and ensure the games get to our customers all over the world.
NWR: You've committed to a release schedule of a game a month. Is it mainly the effort required in each release holding you back or i there still a plentiful supply of games out there clamoring for releases?
SRG: Our one release a month is very much for the sake of consumers - we want people to be able to collect all of our releases without spending lots of money. We aim to be a company where collecting the full set it the end goal. We have the resources and the games where we could release more, but for us we want to keep it this way.
NWR: So far your print runs have been 3000 copies. Will these be getting any larger anytime soon?
SRG: Our first 2 games were 5,000 and we have had our majority of games as 4,000 units. This year, the majority of games will be between 4,000-5,000 units.
NWR: In addition to buying each game as it becomes available, you sometimes let customers pre-buy the next three releases in one package, even before you've announced what they are. How much of your typical print run is usually taken up buy these pre-purchase offers?
SRG: About 25% of each game will be sold via these bundles. These are very much designed to allow people going for a complete SRG Collection to save on shipping. They are incredibly popular!
NWR: What's the benefit that developers get from having their games released physically on the Switch, especially given that these are smaller print runs?
SRG: For developers, the appeal come from a few different channels - Marketing: Is another thing which can help promote the game. Often our audience might not know about the game and its a great way to increase awareness of a switch release. - Financial: its a large lump of sum for a small indie developer which can help fund the next game - Vanity: Its an amazing feeling to have a game you have spent years working on as a physical copy on your shelf!
NWR: You recently released details of your "Super Rare Club" membership program and started accepting sign-up orders. Why do you think that it initially drew some criticism, and what do you hope your customers get out of the program?
SRG: I think the criticism was a lot around the way it would affect our core business and what it would be like if you weren't a member. Initial reactions were very much that not being a member would mean you wouldn't be able to get a release from us and that our service would only be good to those who were in the club. As a company, we have become incredibly efficient and anyone that places an order from us, member or not, will receive there game incredibly quickly. Our packages are unique and of an incredibly high standard and I think people were scarred that this would change. There was certainly a lot of paranoia that 1,000's of people would become members and then you would be forced to pay the 2pounds a month to join the club, this is again something that won't be the case. The aim and ethos of the club was very much for those people going for a full collection and to serve as a way to improve there service with our company. They get premium packaging and 25% of merchandise and this pays back the 25£ it costs to join across the year. Additionally, the early access to products can help those going for a full collection by not having to hit refresh when a game is going live.
NWR: In the case that your entire "Super Rare Club" membership places orders on a game you release before it's made available to non-members, will you still be able to offer supply, both standard and collector's editions, to the general public?
SRG: We aimed to have 500 members in the club and thats pretty much what we have. This number is a small fraction of all of our releases and this means that everyone will have a very equal chance of getting the games they want. Member or not, each game will be accessible to everyone.
NWR: Why are you closing member sign-ups for the program in February? Is this to ensure that you exactly how many club members you need to ensure supply for through the calendar year?
SRG: As a small company, it would be hard to keep track of it otherwise. We will have a month long window where people can signup and then that will be that for the year.
NWR: Well thank you George for sticking around and chatting with us all about your business. We already have a lot of avid SRG collectors here at NWR and can't wait to see what new releases are coming in 2019!
SRG: No worries, it is always a pleasure. We are incredibly overwhelmed by the positive feedback we have had over the last year and are excited to share our 2019 releases with people!
You can keep track of all Super Rare Games' releases by following them @SuperRareGames and by visiting Super Rare Games' website.