A short list of delicious eShop titles to play on your new and quirky Cons.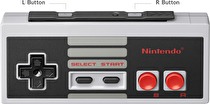 In 2018, Nintendo finally unveiled and released its paid online system known as Nintendo Switch Online, which also saw the NES games come to the switch. To assist in the noble quest to dump as much nostalgia onto Switch players as possible, Nintendo has released some NES- styled Joy-Con to let players play the NES games as they were designed. But these aren't the only games that can be played with these shiny new rectangular cons. We have compiled a short list of 2-button gems available right now on the eShop.
First up we have Kero Blaster, a relatively simple side-scrolling shooter/platformer. Originally released on mobile in 2014, it was ported to the Switch and released August 23rd 2018 for $9.99. Coming from Studio Pixel, the visuals and most importantly the soundtrack are absolutely sublime, strumming the same kind of nostalgic strings as the studio's previous game, Cave Story. Kero Blaster totally took me by surprise when I booted it up, and once I started, I literally couldn't stop. With its simple control scheme, it feels fantastic on the NES Joy-Conr, and this controller could be the most fun way to play.
Next we have Tricky Towers, released on the Switch eShop on October 11th 2018 for $14.99. Looking at screenshots and gameplay will probably remind you of a certain incredibly famous classic Russian game, complete with falling tetrominos. The difference this time around is that instead of clearing complete lines the goal is to stack pieces up as high as you can without them tumbling over—a very tricky premise indeed. Great for single and multiplayer, this twist on a classic has a whole new kind of addicting quality. And just like playing Tetris back on the ol' NES, playing with the NES Joy-Con feels right at home.
Thirdly we have Miles & Kilo, released July 5th 2018 for $7.99. An absolute must-play in my humble opinion, it plays amazingly well on the NES Joy-Con because it feels like an NES game. Heavily influenced by the Adventure Island series, this title also plays like an auto-running platformer but it gives the option to move freely around to explore at your own pace. But be warned: this game is pretty dang tough. That said, this was also a title that I couldn't put down until I got an S rank in every single level. As a bonus, its prequel "Kid Tripp" is also available on the Switch and plays equally nice with the NES Joy-Con.
At number four we have Bomb Chicken, released July 12th 2018 for $14.99—an incredibly cute side-scrolling puzzle platformer with the simplest of concepts: a chicken that can hatch an infinite number of bombs. Utilizing this surprisingly deep technique will have you clucking through this gorgeous 16-bit, retro-styled game, featuring fantastic level design, hidden sections, and a tough-as-nails difficulty. Luckily, the control scheme is equally simple and is a joy to play on the NES Joy-Con.
Next up we have a "Totes" addicting arcade game: Totes the Goat. Released on March 1st 2018 for $4.99, this title may also remind you of a popular classic game, Qbert, but it features a fun combo system and dozens of characters to unlock and play with. This title has 3 different control schemes to help tailor to the player's preferences, and luckily they all work with the NES Joy-Con, fully realizing the retro charm. Warning: this game can get very addicting.
Last but certainly not least, we have ARCADE ARCHIVES VS. SUPER MARIO BROS. which released on December 22nd 2017 for $7.99. Yes, we know, this is kind of cheating, but we wanted to include it because this may be the game that actually was meant to be played with the NES Joy-Con and didn't even know it. VS. SUPER MARIO BROS. is certainly one of the weirdest titles on the eShop, being an old arcade release of Super Mario Bros. with bizarre changes in colors, and spikes in difficulty—presumably to get more quarters out of those poor little kids' pockets.
So that's our list of 6 games that feel right at home with the NES Joy-Con. Obviously, there have to be a ton more that we haven't tried, so why not let us know which games you are enjoying with your new Switch NES controllers in the comments below!