On the eve of Mario Tennis Aces' release, we walk down the memory lane of 20+ years of plumbers playing tennis.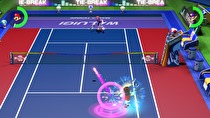 Mario's first dalliance with tennis didn't happen holding a racket, as he was the referee in Tennis on the NES, which you will be able to play online with a friend with Nintendo Entertainment System - Nintendo Switch Online in the fall. I don't really have anything else to say about this. It's Tennis. Please let us know in the comments below if you want to use the online play for old NES sports games to make the weirdest eSports league yet.
Oddly enough, Mario got his official tennis-playing start on the Virtual Boy. That's right: Mario's Tennis debuted at the system's launch and kicked off his racket-swinging days. It was developed by Nintendo R&D1, which was the Gunpei Yokoi-led team responsible for Nintendo's early portables. Since Virtual Boy was their creation, they were prolific on the short-lived system, also making Mario Clash, Wario Land, and Teleroboxer.
But about two dozen people played the Virtual Boy, so we can safely say that Mario's big league tennis debut was on the Nintendo 64 is Mario Tennis, the 2000 release that, among other things, introduced Waluigi to the world. Thanks Mario Tennis. We owe you one.
This was the first entry to be developed by Camelot, who were really only known for making the Shining series with Sega before this. Low-key, they were starting to put their mark on the world of arcade sports, with Hot Shots Golf on the PlayStation in 1997 and Mario Golf on the Nintendo 64 in 1999. Mario Tennis was their first tennis game and it was a great one.
The most important change that Camelot brought was the smart twist to gameplay and controls. Shots could be made by pressing the A button, the B button, or both at once to create different spin and curve. It made the game easy to pick up and play but also added a lot of depth as the order of how you pressed the buttons altered the shot as well as how long you held onto the button. Seven unique shots could be executed with two buttons. It instantly became the gold standard for approachable arcade tennis games.
In addition to Waluigi, Mario Tennis is also responsible for bringing Birdo and Daisy back to life after years of dormancy. After all, Wario, Yoshi, and Peach all needed doubles partners.
The Nintendo 64 game also had a companion Game Boy Color game, which had the famed RPG-style mode that people have desired to return for more than a decade. The two versions could be connected via the N64 Transfer Pak, letting Game Boy players play as and level up the original characters in that version.
Tennis would return in 2004 in Mario Power Tennis, also made by Camelot. Power Tennis added a lot of gimmicky twists, such as a Luigi's Mansion court with ghosts and a Super Mario Sunshine court with paint obstacles. The Power Shot was also a big addition, which was basically a tennis Final Smash. While Power Tennis still had the great, easy-to-approach gameplay, a lot of the frills didn't quite land as well. That got a little worse in its 2009 Wii port, which added okay-at-best motion controls. Mario Power Tennis was a game best suited for buttons.
On the flipside, the companion Game Boy Advance game, called Mario Tennis: Power Tour, is, according to former Nintendo World Report staffer Stan Ferguson, a 10/10. Now Stan got derided for this back in the day and his review was cited as one of the worst gaming articles of the year (true story). At its core, Power Tour is just the perfect distillation of the sports RPG that Camelot had done three times prior across golf and tennis. It had a fun story, great progression, and excellent tennis gameplay. Maybe the reason why the RPG mode has never been revisited is because Camelot thought they couldn't top Power Tour. At least we can cling to that.
After Power Tour, seven years passed before Mario picked up a racket in a new game. In 2012, Mario Tennis Open hit 3DS and aside from adding online play for the first time in the series, it was the start of a downward trend. Looking back, it wasn't really that bad. Just okay. The gameplay was still fine, even with the added touch screen shot controls. The single-player experience wasn't great, just consisting of some tournaments and challenges. Multiplayer was a highlight, both local and online. It even had a novel StreetPass feature where you could play against a CPU modeled after the the player you passed.
While Mario Tennis Open might have been the series low point at the time, it was absolutely trumped by the crushing disappointment of Nintendo's big 2015 holiday release: Mario Tennis: Ultra Smash. It's a barebones game that has a bafflingly little amount of content compared to its predecessor, hinting at a potentially rushed development time. Whatever the reason, the only thing Ultra Smash had going for it was it kind of looked nice in HD. You can see all of the content in this game in about an hour. Even the online options were disappointing. Seriously - Ultra Smash is a bad game.
But that's in the past. The future is now, with Mario Tennis Aces on the cusp of release. Our review is already live and it'll be finalized with a score after more time with the online. Until then, let's just look back on the 20+ years of Mario's tennis escapades and be happy for the successes and try to put Ultra Smash out of our minds forever.