Game design with a historical purpose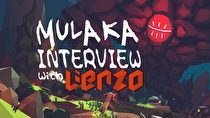 Last week I had the opportunity to sit down with some of the team behind the upcoming Switch title Mulaka. I came away very impressed with the devotion they had to their source material. You can watch the full interview below. Please note that the interview was conducted over the phone, therefore sound quality is not perfect but still well worth listening to.
You can read or watch my review of Mulaka here.
Lienzo staff in this interview: Adolfo Aguirre - PR & Publishing Manager Adolfo Rico - Lead Programmer Edgar Serrano - Director Guillermo Vizcaíno - Programmer & Writer