Chris Kohler's personal story and attachment to the neglected Final Fantasy V is a great way to get inspired to (re)play the Super Famicom classic.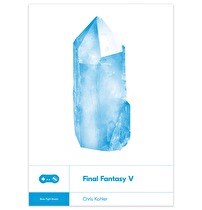 I had a realization after listening to the recent episode of Retronauts covering Final Fantasy V. I don't really remember anything other than broad strokes about the game. As near as I can figure, the last time I played it might have been last millennium. All I have to go on is that the initial fan translation dates back to 1997 and that was the first (and only) version of Final Fantasy V that I ever played. I can guess my playthrough happened sometime in 1999 or 2000. I would have been about 12 years old when I finished it, and I really don't remember much at all about other than thinking it paled in comparison to other RPGs that younger Neal had played.
But I listened to the episode of Retronauts and wondered how this game didn't click with me. It was high time to revisit it, I thought. So I went about trying to get my hands on the Game Boy Advance release. In the meantime, I got an early look at Chris Kohler's upcoming Final Fantasy V book from Boss Fight Books (available October 24 if you back the Boss Fight Books Season 4 Kickstarter). Through foggy memories of Exdeath, Butz (or Bartz?), and the crossdressing pirate Faris, I ventured to play through Final Fantasy V while reading about its history and development.
Kohler's book is a quick, interesting read that bounces between his own experiences as a teenage Final Fantasy fan and Japanophile, anecdotes about the game's development from director Hironobu Sakaguchi, and a broad walkthrough of the adventure. Back in the '90s, Kohler imported the Super Famicom version as a teen and ended up working with a few other dedicated fans to make a walkthrough of Final Fantasy V - one that would end up being more or less lifted for use in official strategy guides in 1999. It all makes for an angle on Final Fantasy V and its legacy that really no one else could give.
It's fascinating to read about the contrasting success of Final Fantasy V in Japan and its indifference in America, especially because I myself lived with that indifference for years. As a motivating factor for revisiting Final Fantasy V after 15+ years, this book was an invaluable companion. While my reading outpaced my play, it was interesting seeing events unfold in Final Fantasy V with the context of its development through the wonderful insights from Sakaguchi.
I knew that going in, though. From when I first caught word of the Final Fantasy V book, I knew that an interview with the Final Fantasy creator was part of its basis. What wound up being the most compelling part of this book, much to my surprise, was Kohler's recounting of his own history with Final Fantasy V in tandem with the cancelled plans for the game's release on Super Nintendo and PC. No fan-related stone is unturned, as the late parts even touch on the Final Fantasy Five Four Job Fiesta (which I think I might try to participate in after my first remembered playthrough).
The highest compliment that I can pay this book is that it was instrumental in getting me to revisit a game I wrote off long ago. Thanks to the motivating interest of Kohler's Final Fantasy V book from Boss Fight Books, I'm playing Final Fantasy V for the first time in more than 15 years and I have a good feeling that, by the end of it, I might have to revisit my top Final Fantasy game list. The game is awesome and the book about its history and legacy is just as grand.
If you want to check out the book for yourself, Final Fantasy V is coming out in October, but you can secure an earlier copy (and a lot of other bonuses) by backing the Boss Fight Books Season 4 Kickstarter.
Disclosure: Chris Kohler wrote articles for Nintendo World Report more than 10 years ago.