The good ol' "What Would You Take to a Desert Island" challenge!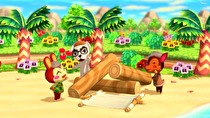 A little while ago we asked NWR staffers what three Switch games were standouts among the console's released games so far. (This meant we couldn't choose future games!) The console is barely more than a month and a half old but it's already accumulated a diverse library of titles that really shone through in everyone's personal picks!
The prompt was as follows:
Pick your top 3 Nintendo Switch games that are out so far! Imagine you're on a desert island, making snap recommendations for a new owner, or compiling a "Top 3" list, but even though the Switch is barely more than a month old what's managed to stand out for you?
---
"I think Voez is a delightful counterpoint (and musical warm-down) after a lengthy Zelda gaming session. I'm also finding myself captivated by the utter originality of Snake Pass... strangely enough all of my picks are single player!"
Carmine Red
"Zelda might be my desert island game of all time, actually. But for me it's Zelda, Isaac, and Blaster Master Zero. All excellent games, and the first two have essentially infinite replay value!"
Zachary Miller
"Well, Zelda's a no-brainer. Outside of that? I could probably replay Shovel Knight until my eyes bleed, so the Treasure Trove is my second pick. Final pick is total recency bias, but as long as there is WiFi, Graceful Explosion Machine needs to be in my life."
Neal Ronaghan
"As a Zelda Wii U truther I'll take Fast RMX, Shovel Knight Treasure Trove (three games in one!) and Neo Turf Masters as the best retro title on the system thus far."
Donald Theriault
"Oh shit how'd I forget about Shovel Knight?!
Zelda, Isaac, Shovel Knight."
Zachary
"Gotta go with Blaster Master Zero for some sweet old-school fun, and multiplayer as a bonus!
My other pick would be Fast RMX, a perfect 5-minute game for when I don't have a lot of time to play. It's so pretty, and so FAST!
And Zelda, for fairly obvious reasons."
Perry Burkum
"If I could have three wishes, I'd wish for Zelda, Puyo Puyo Tetris (you can keep the Puyo Puyo part), and World Peace! What's that? I can only ask for Switch games? Okay, scratch World Peace and add Binding of Isaac. Zach keeps recommending it, and I can spend eternity cursing him."
Adam Abou-Nasr
"It's your fault I like that game so much!!"
Zachary
"Of course Zelda is a lock for all Switch owners, but for when you want to break up those marathon sessions nothing quite does the trick like Fast RMX and The Binding of Isaac. Both games are great for pick up and play action or lend themselves nicely to longer sessions with tons of replayability!
However if you were actually stuck on a desert island, you might want to consider Vroom in the Night Sky. Why you might ask? Well it'll make you put down your Switch and do some more productive things like build a shelter or hunt for some food."
Casey Gibson
"It sucks none of these games have voice chat. We could ask someone to send help!"
Adam
"Use rocks in Zelda to spell it out on the beach, then take a screenshot, and post it to your favorite social media channel!"
Carmine
"Wait, so I'm already on the island and telling another person, on the island, what to play? But I can already play it on the island? Well then. Zelda will give you enough to do until the search party arrives a year later... other than that, let's get some good ol' 1-2-Switch up in here so you can be a little sociable with this other mystery guy. I'd also throw Shovel Knight in there for good measure."
Kimberly Keller
"Is there wifi on this island? If so, I'm bringing only Zelda for two reasons: one, because I can drop weapons to spell out "SOS - stranded on a desert island," and take a pic of it to share on social media, and then I'll just play the game until help arrives or I die. If there's no wifi, I'd also bring Binding of Isaac (which I've never played, but I've heard has infinite replay value), and Shovel Knight because I need a platformer to play over and over until rescue or death comes for me."
Matt West
"Saying that you'd choose Zelda is about as obvious as saying you want water. Beyond that I think I'd choose the addictive arcade action of Graceful Explosion Machine and the strategy brutality of Has-Been Heroes... then I'd have the time to get all of those additional unlocks finally!"
Justin Nation
---
How about you readers? There are plenty of Switch games coming out in the following months, but of the games that have come out in the first weeks since launch, which three are YOUR picks? Feel free to share your thoughts in the discussion below!