Kicking off a new article series with a history of the secret mastermind behind Nintendo's early classics.
Nintendo's video game success didn't begin with Takashi Tezuka, but it surely wouldn't have been as hugely successful without the touch of the designer. He started at Nintendo as an intern in 1983 before joining the company full-time after his college graduation the year after. His earliest credited work was on the arcade version of Super Punch-Out!! and the Famicom release of the Shigeru Miyamoto-helmed Devil World. Miyamoto, eight years Tezuka's senior, must have enjoyed working with the young developer, as Tezuka also worked under him on Excitebike and VS. Excitebike in 1984.
While all of his early work was fine and well, Tezuka's biggest test was the first one he was credited as a director on: Super Mario Bros. Teaming up with Miyamoto, the pair designed the ground-breaking platformer in 1985, and the next year, they made a direct sequel, released overseas as Super Mario Bros.: The Lost Levels years later. The dynamic duo of Tezuka and Miyamoto also also kicked off another fabled franchise in the '80s with The Legend of Zelda. Within three years at Nintendo, Tezuka was partially responsible for launching both Super Mario Bros. and The Legend of Zelda - and that was only the beginning of his legacy.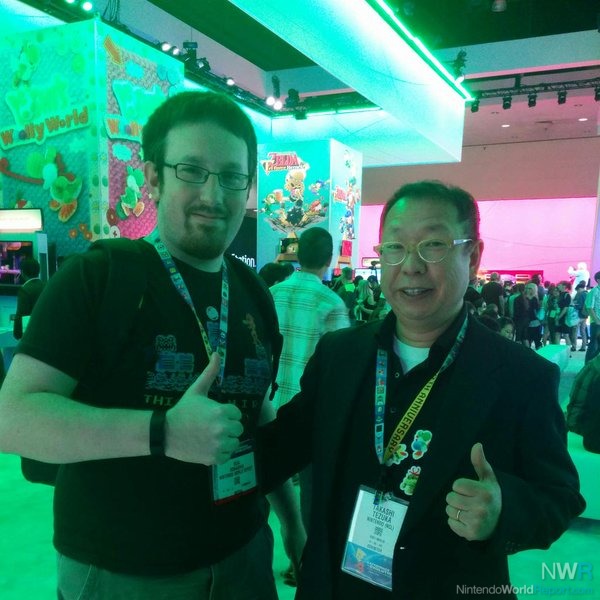 In 1988, Tezuka teamed back up with Miyamoto to co-direct Super Mario Bros. 3. Following the game's release, he started working on launch titles for the Super Nintendo, this time directing by his lonesome as Miyamoto moved up in the company. Only one of his games made the system's Japanese launch in 1990, but it was a revelatory one in Super Mario World. The next year, he wrapped up The Legend of Zelda: A Link to the Past. Following Link to the Past, Tezuka worked on the Game Boy, directing the portable Zelda game Link's Awakening. At the same time, he guided the direction of Super Mario All-Stars on Super Nintendo. His last directorial effort was Yoshi's Island in 1995, where he worked alongside a team that would go on to great things in Nintendo, including Pikmin director Shigefumi Hino and Mario Kart producer/current head of mobile development Hideki Konno.
1996 was Tezuka's last year as a credited designer, as he was a part of the dream team that worked with Miyamoto on Super Mario 64. After the launch of the Nintendo 64, he ascended to Nintendo's upper management heaven. As a producer and supervisor, Tezuka worked on Yoshi's Story and Animal Forest (the precursor to Animal Crossing) on the Nintendo 64. On the GameCube, he worked on Luigi's Mansion, Animal Crossing, Super Mario Sunshine, The Legend of Zelda: The Wind Waker, Mario Kart: Double Dash!!, and both Pikmin games. His impact was also felt on all 2D Mario games, including the Mario Advance series and New Super Mario Bros. games. He also kept close ties to the Yoshi's Island-inspired projects, such as Yoshi Touch & Go and Yoshi's Island DS.
Throughout all of this, Tezuka mostly kept to the background. While Miyamoto could barely walk two feet at E3 without getting mobbed, Tezuka is regularly spotted walking around the show floor with little to no fanfare. That changed, to an extent, in 2015 as he was heavily involved with two major projects: Super Mario Maker and Yoshi's Woolly World. As of now, those were his two last credited games, but it's highly likely Tezuka is off recharging and working on producing new games both internally at Nintendo and with close second parties. Whether it's a new 2D Mario, something fresh in the Yoshi series, or something completely different, Tezuka will continue to help shape the young developers at Nintendo as the company evolves and grows.