See what hot games will be playable at Japan's biggest gaming event this week!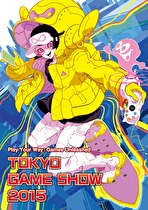 You are probably wondering why you should be excited at all about Tokyo Game Show this year if you're a Nintendo fan, right? While it still remains true that Nintendo as a company does not attend the show, that doesn't count out third party titles from showing up on the show floor. This year's show is one of the sparsest I've seen in my time here at NWR, but there are actually a few heavy hitters that you'll be hearing about from us very soon.
Perhaps one of the biggest titles at the this year's show comes from Koei Tecmo in the form of Zelda Musō: Hyrule All-stars (Hyrule Warriors: Legends) on the Nintendo 3DS. This port of last year's hit Wii U title promises to do bring the same experience to the small screen with quite a bit more content. While The Musō series has been hit or miss on 3DS, it's going to be interesting to see how this ports fares.
What would the Tokyo Game Show be without Monster Hunter? It's no secret that Japanese gamers absolutely love the series and Capcom always does something Monster Hunter related every year. At the show this week, gamers will not only be able to play the next big iteration of the series with Monster Hunter X (cross), but also Monster Hunter Stories and the recently released Poka Poka Airou Mura DX. Notoriously locked behind required time stamped tickets, we'll do our best to get our grubby mitts on all of the Monster Hunter that we can.
Below is the current list of titles for 3DS and Wii U that are going to be at the show in some form. We hope you guys enjoy the written content as well as the upcoming episode of the Famicast where we'll talk about all things TGS!
Koei Tecmo Games
Hyrule Warriors Legends (3DS) - Demo, Stage Show
Bandai Namco Games
Project X Zone: Brave New World (3DS) - Demo, Stage Show
Disney Infinity 3.0 (Wii U) - Demo
Pro Yakyu Famistar Returns (3DS) - Video only
Disney Magic Castle 2: My Happy Life (3DS) - Demo
Lost Reavers (formerly Project Treasure, Wii U) - Video only
Capcom
Monster Hunter X (Cross, 3DS) - Demo, Stage Show, Online Broadcast
Monster Hunter Stories (3DS) - Demo, Stage Show, Online Broadcast
Monster Hunter Diaries: Poka Poka Airou Village DX (3DS) - Demo
Gyakuten Saiban 6 (3DS) - Demo, Stage Show, Online Broadcast
Sega (and partners)
7th Dragon III: code VFD (3DS) - Demo, Stage Show
Square Enix
Dragon Quest X: Online (3DS, Wii, Wii U)