Smash demo for 3DS and some classic VC love for the Wii U this week.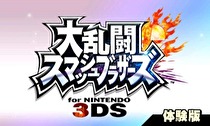 Nintendo is gearing up for the Saturday release of Super Smash Bros. on Nintendo 3DS in Japan by giving gamers a chance to try out the game a few days before the release with nice shiny demo! It's a bit rare to see demos for Nintendo published games on the Japanese eShop, so this was a nice surprise! The demo features five characters and can be played up to 30 times. If you want to read more about it, be sure to check out Neal's latest hands-on preview here.
Aside from the Smash Bros. love, the Wii U also has a few notable titles that were released digitally. Mighty Switch Force - Hyper Drive Edition finally made its way to Japanese audiences after having a few years head start in other regions. There are also some Virtual Console titles to round out the release list with Breath of Fire (SNES), Mario Golf: Advance Tour (GBA) and the Famicom fighter Flying Dragon: The Secret Scroll. For a complete look at everything that is available for download, check out the round-up below!
3DS
Downloadable Titles
Chichana Game - Vol. 1 Knight to Dragon no Hima Tsubushi - 300 yen
Dokopon Choice Keroro Gunsō Vol. 1 1 - 5-kan Pack - 2,950 yen
2048 - 300 yen Minna de Mamotte Kishi Hime no Tokimeki Rhapsody - 864 yen
Tōsōchū Shijō Saikyō no Hunter-tachi kara Nigekire! (retail title, digital re-release) - 5,184 yen
Dai Rantō Smash Brothers for Nintendo 3DS (Super Smash Bros. for Nintendo 3DS, retail title) - 5,200 yen (from 9/13)
Dai Rantō Smash Brothers for Nintendo 3DS - DEMO (Super Smash Bros. for Nintendo 3DS Demo) - FREE
Kōeki Zaidanhōjin Nihon Kanji Nōryoku Kentei Kyōkai Kanken Training Demo (Kanji Proficiency Training application) - FREE
Virtual Console
NA (no titles since 5/7)
Wii U
Downloadable Titles
Mighty Switch Force - Hyper Drive Edition - 1,080 yen
Virtual Console
Hiryu no Ken: Ōgi no Sho (Flying Dragon: The Secret Scroll, Famicom) - 514 yen
Breath of Fire: Ryū no Senshi (Breath of Fire, Super Famicom) - 823 yen
Mario Golf: GBA Tour (Mario Golf: Advance Tour, Game Boy Advance) - 702 yen