Konami goes a little bit crazy with VC releases on the Wii U this week.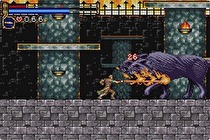 It's a Konami filled release week on the Wii U Virtual Console here in Japan. On top of the usual stuff, there is a bit more to what's available this week. On the Nintendo 3DS front, Aqua Moto Racing 3D hit the digital store, Super Mario-kun manga is available (for a hefty price), and a demo for the next iteration in the Gaist Crusher series all make appearances.
The Wii U, while not getting any traditional downloadable titles, is seeing five different classic releases on the Virtual Console. Among them is the GBA launch title Castlevania: Circle of the Moon, a creepy school based adventure game called Gakkō Deatta Kowai Hanashi (roughly translated as Scary Stories at School), Final Fight 2, and a few others. For a complete look at all of the releases in Japan this week, be sure to check out the round-up below!
3DS
Downloadable Titles
Aqua Moto Racing 3D - 400 yen
Dasshutsu Adventure Shūen no Kuroi Kiri - 820 yen
Dokopon Choice Super Mario-kun Vol. 1 - 10-kan Pack - 4,400 yen
Dokopon Choice Blood Lad Vol. 1 - 5-kan + Omake Pack - 3,050 yen
Puchi Noberu Shukusai no Hachigatsu - 200 yen
Medalot (Medabot) 8 - Kabuto Version / Kuwagata Version (retail title) - 6,264 (from 8/28)
Boku wa Kokū Kansei-kan Airport Hero 3D Kankū Sky Story DEMO - FREE
Gaist Crusher God DEMO - FREE
Virtual Console
NA (since 5/7)
Wii U
Downloadable Titles
NA
Virtual Console
Gakkō Deatta Kowai Hanashi (Super Famicom) - 823 yen
Final Fight 2 (Super Famicom) - 823 yen
Akumajō Dracula Circle of the Moon (Castlevania: Circle of the Moon, Game Boy Advance) - 702 yen
Kaizō Chōnin Shubibiman 2 - Aratanu Teki (Shockman, PC Engine) - 617 yen
Final Soldier (PC Engine) - 702 yen