Summer time brings a ton of sales and more Virtual Console to Nintendo's downloadable store in Japan.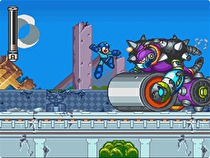 The heat is on here in Japan, and apparently that also means it's time for some hot summer sales on the eShop! Tons of different publishers have sales on titles on both the Wii U and 3DS. To name a few on Wii U, Nintendo Joysound Karaoke U if offering an additional five days for free if you purchase 30 or 90 days, Arc System Works is offering up to 50% off of select titles and Nintendo is offering slight discounts on Dr. Luigi and Famicom Remix (down to 1,200 yen) while Trine 2 and Pokémon Rumble U are marked down to 1,300 yen. On the 3DS side of things, Arc System Works is also offering up to 65% off of select titles, Sega has marked down Rhythm Thief to 1,080 yen, Sonic Generations is down to 2,160 yen and Nintendo has special markdowns to 3,500 yen for A Link Between Worlds, Luigi's Mansion: Dark Moon, Fire Emblem: Awakening and Kid Icarus: Uprising.
On top of the sales, Virtual Console is seeing some strong releases this week (on Wii U at any rate) with Mega Man 7, Final Fight and Fire Emblem: The Sacred Stones. For a complete look at all of the releases this week, be sure to check out the round-up below!
3DS
Downloadable Titles
Simple DL Series Vol. 32 The Battle Robo Dai Kyōtō Scramble - 520 yen
Castle Clout 3D Kōjō Sensen - 500 yen
Cubit Run Button Running Action - 300 yen
Cubit Run Button Running Action DEMO - FREE
Dakkan Shirei Majo Dungeon - Nushi to Tamenara Yaraneba Narumai - 500 yen
Dokopon Choice - Sakamichi no Aporon 1 - 9-kan Pack - 3,960 yen
Dokopon Choice - Shijō Saikyō no Denshi: Kenichi Vol. 5 41 - 50-kan Pack - 4,400 yen
Maijin Shōjō - Chronicle 2D Act - 400 yen
Mezon do Maō - 864 yen
Senran Kagura 2 - Shinku (retail title) - 6,998 yen (from 8/7)
Dragon Ball Heroes Ultimate Mission 2 (retail title) - 6,145 yen (from 8/7)
Nekketsu Mahō Monogatari DEMO - FREE
Tetsudō Nippon! Rosen Tabi Kashima Rinkai Tetsudō-hen DEMO - FREE
Virtual Console
NA
Wii U
Downloadable Titles
Simple DL Series for Wii U Vol. 2 The Misshitsu kara no Dasshutsu 2 - Kesareta 19 no Koiku - 1,000 yen
Virtual Console
Final Fight (Super Famicom) - 823 yen
Rockman 7 - Shukumei no Taiketsu! (Mega Man 7, Super Famicom) - 823 yen
Fire Emblem: Seimano Kōseki (Fire Emblem: The Sacred Stones, Game Boy Advance) - 702 yen