The GBA love comes in the form of Mario and Kuru Kuru Kururin.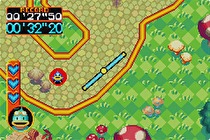 Another week, another group of downloadable titles on both the Nintendo 3DS and Wii U eShops. Even though the 3DS is still Virtual Console-less this week, there is a good number of titles ranging from digital comics, free demos, and even a new 3D remake from Sega. This time the 3D remake comes in the form of 3D Fantasy Zone II, which is currently Japan only.
On top of a Super Famicom version of Dodgeball, starring everyone's favorite high school student Kunio-kun, the Wii U has two new Game Boy Advance titles on the Virtual Console service. Everyone knows what to expect out of Super Mario Advance, but many haven't heard about the other release this week, Kuru Kuru Kururin. The game has players controlling a rotating stick of sorts through levels while trying to avoid hitting walls. It sounds strange, but NWR site founder Billy Berghammer really enjoyed the game when it originally released in 2001. You can read his review here or check out the gameplay video below.
To get a complete look all of the releases in Japan this week, check out the round-up below!
3DS
Downloadable Titles
Ekusukēbu Ikai no Madō Shihen - 1,300 yen
3D Fantasy Zone II Double - 823 yen
Dokopon Choice Zettai Zentsumei Dangerous Ji-san Vol. 2. 11 - 20-kan Pack - 4,400 yen
Dokopon Choice Fairy Tale Vol. 4 31 - 40-kan Pack - 4,400 yen
Pick a Jewel (Pick a Gem) - 400 yen
Puchi Novel Shingaku no Shichi-gatsu - 200 yen
Gundam Tri Age SP (retail title) - 6,145 yen (from 7/17)
Hamatora - Look at Smoking World (retail title) - 6,151 yen (from 7/17)
Hoppe-chan Minna de Odekake! Waku Waku Hoppe Land (retail title) - 5,184 yen (from 7/17)
Hoppe-chan Minna de Odekake! Waku Waku Hoppe Land DEMO - FREE
Thomas to Asonde Oboeru Kotoba to Kazu to ABC DEMO - FREE
Happiness Charge Purikyua! Kawarun Collection DEMO - FREE
Virtual Console
NA
Wii U
Downloadable Titles
NA
Virtual Console
Kunio-kun no Dodgeball dayo Zenin Shūgō! (Super Famicom) - 823 yen
Kuru Kuru Kururin (Game Boy Advance) - 702 yen
Super Mario Advance (Game Boy Advance) - 702 yen