Who wants some high-leveled analysis of two similar looking football games? I do!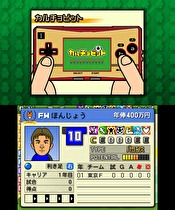 With a summer of very heated football matches almost behind us, I thought it would be fun to compare the two versions of Nintendo Pocket Football Club. Calciobit, as the Japanese version is called, was fitted to a Japanese public and not every single aspect made it into the European release. I hinted at this fact in my review a while back, but couldn't explore fully until a couple of weeks ago. There are things I found in spitting through both games and will present here in a hopefully not too nitpicky fashion!
Starting with the basics, Calciobit never made a huge effort to fully guide the player. With Nintendo Pocket Football Club, the game as a whole feels friendlier. There is more information to guide the player in their first steps and you get more hints from both the coach and secretary in the title. It makes sure that players will feel at home quicker and gives it the feeling that even people without too much football knowledge can enjoy it.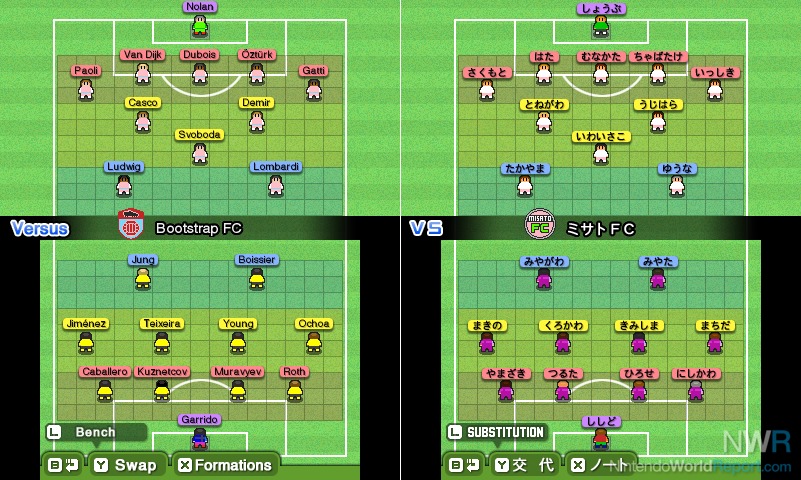 Calciobit mostly features Japanese players, while NPFC has a more diverse crowd. It gives it a more international appeal, which is in line with the European approach to football. There is a mixture of African, Asian and, of course, European players that form a nice mix of options.
The funny side note here is that only a few western names are known to exist in Calciobit, two of which are Hepburn and Audrey. This is perhaps a reference to the Dutch-British actress Audrey Hepburn, who was passed away in 1993. I am not saying that ParityBit, the original developer, were fans of Audrey Hepburn, but it is certainly not out of the question. The names in NPFC are straightforward and their first names are not even included like with Calciobit. You can find names like Ullrich, Pearson, Petrov and Riva just to name a few.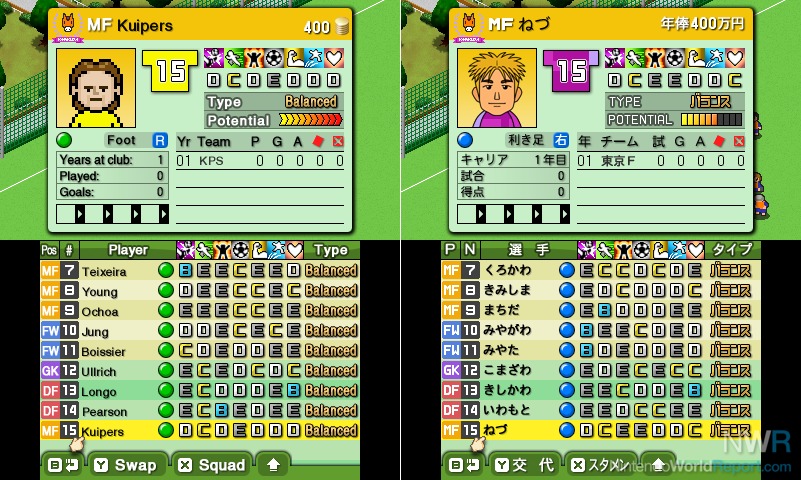 The names are not the only major difference between players however. The original Japanese version featured anime-style faces for the characters, but for Nintendo Pocket Football Club they went with pixelated faces, which I quite approve of. The anime style was really in sync with the Japanese way of approaching it, while pixelated NPCs and players actually come together in a way that is lovely to look at. It is also in line with the smaller pixel characters walking about on the playing field and that makes the whole experience feel more coherent.
The characters that will support you throughout the football journey have also been changed. The coach and secretary have a friendlier look about them, and in particular the coach has changed a lot. In Calciobit, it used to be more of a typical facial expression, but here it has the former-player look written all over it. The tips and tricks he gives you are presented in humorous matter, while the original it has always been straightforward and to the point. Secretary has kind of evolved in a similar fashion and you will enjoy talking to those people in Nintendo Pocket Football Club. There is even a character that was not in the original game, which is the doctor. He helps injured players and gives advice.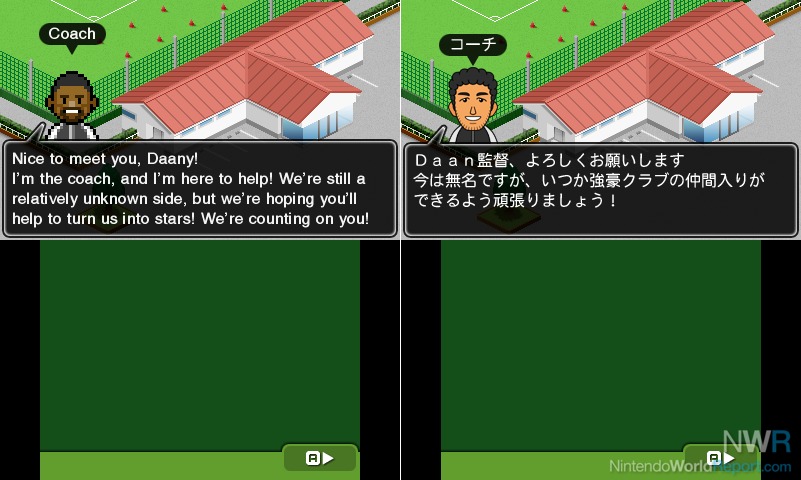 During the course of the game, you will duke it out against various clubs in friendly and ranked matches. Calciobit featured parodies of the emblem design from various Japanese Pro League teams. This would not fly in Europe, in particular as most would not able to recognize the imagery used. Instead, the teams now feature unique designs with pun-filled names. You meet teams early on such as the Mighty Oaks, Bridgeford United and the Boson Old Boys. European and World Cup Tournament teams go a step beyond in that styles of individual countries are well recreated.
As the matches come, there is always importance on scoring goals and making sure that you are one step ahead of the other team. While you have limited resources on the playing field, you can simply enjoy the atmosphere that Nintendo Pocket Football Club brings. This sense of action was, once again, different in Calciobit. The public is more vocal and voice their opinion in common chants at the sidelines after players perform certain deeds like receiving a card. When your team makes a foul or missed a goal, you are no longer presented with an anime head scratching his head. Now they will just shake their heads in-game, which won't change up the game much.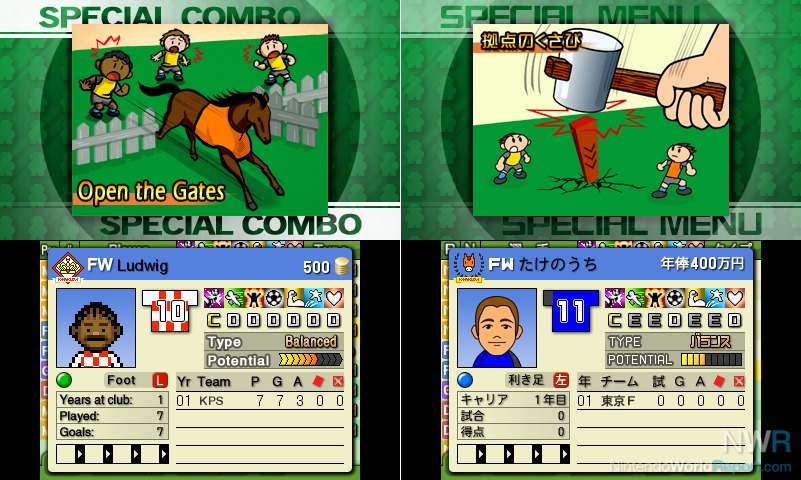 After the matches conclude, you will have to train the team to be sharp for the next one. As you play a friendly or competitive endeavor, the trainer (your chosen Mii) will have some hilarious comments and get special training cards. By using these in a correct matter, you can improve the overall quality of a player and make sure he comes off better prepared. Combining three of these, you create specials that will improve the players in even a grander way. To help you, NPFC features a reference guide and has specific hints to combos. These are not really present in Calciobit and they won't tell exactly which stats would improve. It makes the whole structure more efficient and it is unlikely that you will waste good cards. Just like the players, some of the cards have been culturalized. This includes a few of the basic cards as well as special combo pictures. Most of them have been remained the same, though one interesting change is Aikido to Judo.
You can't always stick to the same basic players and see how they will ride out the sitting to the very end. The teams change and players can be purchased and sold on the transfer market. In the Japanese version, you would buy players locally and through the means of yen. Now it has been changed to generic coins, which is not quite realistic and does not make a lot of sense. Games like Tomodachi Life used Euros, so there should be no reason for taking such an approach. New to the game is that you can purchase players from a Friend Market, which is where your Nintendo 3DS friends come together for an exchange. It gives the feeling of a more connected football world and makes the transfer market a lot more exciting. If you decide to purchase a player, it gets a special symbol which indicates that you found it in said Friend Market. That will certainly be a kicker as you duel your friends locally and over the internet.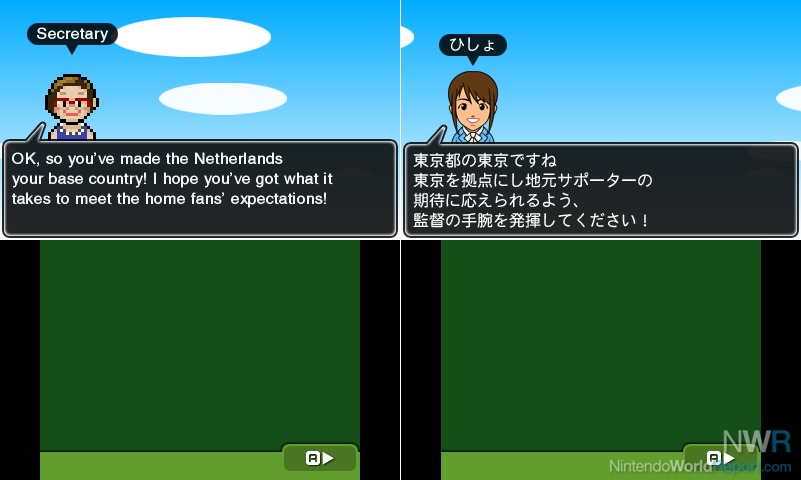 To conclude our Calciobit vs. NPFC round up, I want to talk about two specific features that are no longer present in the European release. You can no longer switch the team's general location, which is understandable as switching to different entire country would be somewhat of a weird step. The bigger one, however, is that you can no longer take over another team and leave the manager role of your current team. There is mentality difference here, where a manager or trainer does not leave for a new team until he is available. That is quite different in Japan, where managers are asked by request to come over and take over a whole new set of players altogether. And personally, seeing one team grow up that you care about is also much more appealing to me as well. If you want to make a second team so badly, there is always the second save slot.