Masahide Kobayashi went from working on the Game Gear and the 32X to working with Nintendo on a brand new Yoshi game over the past 20 years.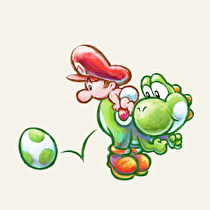 Yoshi's New Island is mainly a product of the company Arzest, which is made up of former Artoon employees. Artoon, for those who don't remember, developed Yoshi's Island DS and was made up of a lot of former Sega developers, including Sonic co-creator Naoto Oshima, who was a producer on Yoshi's New Island. A lot of those former Sega employees are still a part of Arzest, including the director of Yoshi's New Island, a man named Masahide Kobayashi.
Kobayashi's first credited roles at Sega were in the early '90s, as he was a map editor on Asterix on the Master System and a planner on Shinobi on the Game Gear (the latter of which is on 3DS Virtual Console). After working on the Shinobi sequel on the Game Gear, Kobayashi turned the Sega 32X, one of the Genesis expansions. There, he directed games for the first time, including Sonic platformer Knuckles Chaotix and the giant robot game Metal Head.
His career went dark around this time, with nothing officially credited to him for nearly a decade. It is known that Kobayashi joined Oshima over at Artoon around the time when it formed in 1999. In that time, he could have been working on something at Sega that never saw the light of day and then jumped ship with Oshima to Artoon. He surfaced officially in 2004 with the release of Yoshi Topsy-Turvy, the tilt-based Game Boy Advance game. He followed his Yoshi debut with a major design role on the Xbox 360 RPG Blue Dragon and the 2010 Wii MotionPlus title FlingSmash.
With Artoon no more, Kobayashi joined Arzest and very likely had some sort of hand in their Wii Play Motion contributions and/or the StreetPlass Mii Plaza. From there, he led the development of Yoshi's New Island in the role of director. So, his career arc is the story of a Sega developer with experience on the Shinobi and Sonic franchises taking his talents to work with Nintendo on Yoshi games.