The man with no arms carries the Wii U on his back.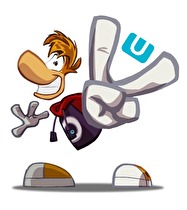 This week Rayman Legends visits the restaurant that is Nintendo systems with a party of one. With no other games scheduled to hit retail locations, Ubisoft has become a lone wolf in the Nintendo market. Here are this week's releases.
Wii U:
Rayman Legends - $59.99, September 3
Originally intended to be a Wii U exclusive, Rayman Legends was pushed back in order to bring it to other consoles. After the initial leaked trailer, Nintendo fans have been clamoring to get their filthy Mario gloves over the title. Now it's finally here, and apparently very good. Our own Scott Thompson has reviewed the game and given it high marks. Though the last game he reviewed was Game & Wario, so that might make any game look good.
Check by next week to see what is coming out, if anything, on Nintendo systems.