Tons of E3 goodness, a new Picross and a surprisingly good shooter (3DS) hit the eShop this week.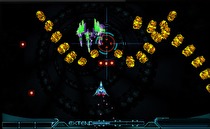 It's that time of year again, folks! E3! Since it happened upon us two years ago, the eShop (at least in Japan) has been home to great video content from the titles shown off at E3. This year is no different as there is at least a few hours worth of content to watch. Not only that, but what would the eShop be without games?! This week is a bit tame, however, on top of the Virtual Console titles, a new Picross game and an unexpectedly fun shooter from G-Style called Chain Blaster have been thrown into the mix. For more about that and everything else, check out what hit the eShop below!
3DS
Downloadable Titles
Simple DL Series Vol. 13 The Taxi - Boku wa Charisma Untenshu - 600 yen
Chain Blaster - 700 yen
Chain Blaster DEMO - FREE
Picross e3 - 500 yen
Donkey Kong Returns 3D (retail title) - 4,800 yen (6/13)
Chōsoku Henkei Gyro-Zetta Arubarosu no Tsubasa (retail title) - 5,000 yen (6/13)
Virtual Console
Clu Clu Land (Famicom) - 500 yen
Downtown Nekketsu Kōshinkyoku Sore Yuke Daiundōkai (Famicom) - 500 yen
Wii U
Virtual Console
Yoshi no Tamago (Yoshi, Famicom) - 30 yen (500 yen after 11:59 p.m. on 7/11)
Rockman (Mega Man, Famicom) - 500 yen
Rockman 2: Dr. Wiley no Saigo (Mega Man 2, Famicom) - 500 yen
Rockman 4: Aratanaru Yabō!! (Mega Man 4, Famicom) - 500 yen
Video Content/Software Impressions
With E3 upon us, that means there is a ton of new video content on the eShop from the show on top of the normal amount of goodness that we usually get. There are several videos for this weeks releases as well. Gamers can check out videos for all of the downloadable and Virtual Console titles. Of course, the pre-E3 Nintendo Direct is up in its entirety as are all of the developer interviews. Gamers can also check out streaming 2D trailers for Pokémon X / Y, Super Mario 3D World, Mario Kart 8, Wind Waker HD, Bayonetta 2, Monolith's X, Smash Bros. (the initial trailer as well as the Mega Man and Wii Fit Training trailers), Donkey Kong Country: Tropical Freeze, Pikmin 3, Super Luigi U, The Wonderful 101, Sonic Lost World, Zelda: A Link Between Worlds, Mario & Luigion 3DS and Yoshi's New Island.
Chain Blaster, a top down space shooter by released by G-Style, has a preview video and a gameplay video on top of the free demo that was released this week. I managed to download the demo for the game and can honestly say that it looks and plays wonderfully! The demo is only one stage long, but it gives you a pretty good idea of what to expect. Sure, this is a top down space shooter, but there is a little bit more to it than that. You control your ship with either the circle pad or d-pad, shoot a standard shot with A, a chain blast with B, and can put your ship into overdrive with Y. The chain blast is by far the most useful weapon in the game. Whenever waves of enemies gather on the screen, a target reticle appears on the screen in the general area where they are headed. If you can move your ship fast enough to shoot a straight chain blast into the target area, you are rewarded with all nearby enemies being destroyed. It's a really cool effect and is super satisfying. It remains unclear if Chain Blaster will ever make it outside of Japan, but then again, G-Style's last 3DS game, Crazy Construction, came out in the West in April, six months after the Japanese release! Keep your eyes peeled for this game and enjoy what's left of E3!