We weigh in on the January release as a group.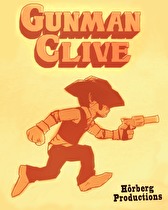 When Gunman Clive launched on the 3DS eShop in January, word spread like wildfire about this $2 eShop title that was actually GOOD. The game was quickly praised on podcasts, and reviewed positively. Our own Tyler Ohlew gave the game a 9 out of 10 when he reviewed it, saying that "[Gunman] Clive is a successful attempt at continuing a genre we don't see much of anymore, a genre with which other developers often focus on tickling our 8-bit fancies instead of capitalizing on what's really important."
In the end, most of us at NWR really enjoyed the game, but we thought we'd take a more scientific approach and ask everyone who played it to write a one-paragraph review and assign the score they would have given below. The result is our first (of hopefully many!) Review Revisits, where we take a recently released game and put it through its paces with multiple opinions.
If you have a game you'd like to see in the Review Revisit hot seat, drop us a note in the talkback thread!
---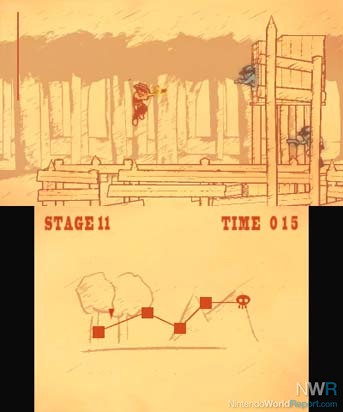 Review from Neal Ronaghan, Site Director
Gunman Clive was a breath of fresh air, and easily the best full-priced $2 game I've ever bought on a Nintendo platform. The art style was immeadiately captivating, and the callbacks to the Mega Man series made me smile, especially since it was anachronistically not related to Mega Man at all. The charm is what ultimately made me crazy about the game, though, especially when I realized you could play as the captured female at the start, and also play as a humorous unlockable character after you beat it.
---

Review from Nicholas Bray, Australian Correspondant
This is a game where the presentation, gameplay and overall polish, come together to help make one of the best titles on the eShop. Taking design tips and ideas from old-school platformers such as Mega Man, the running, shooting and some satisfying boss encounters help make this a memorable experience. Although short, the level design and aesthetics more than make up for it.
---

Review from Guillaume Veillette, Radio Free Nintendo Editor
The game has all the right influences and is executed well enough to make it a hit with fans of NES action games. The low price makes its brevity much more palatable and easier to recommend. You can buy it along with, not instead of, some of the meatier action games on the eShop service, such as Mutant Mudds or Cave Story!
---

Review from J.P. Corbran, Community Manager
Gunman Clive is exactly the kind of thing I want to see on the eShop: a small, focused, really polished game. Taking the best elements of old-school action platformers like Mega Man, it creates a short but very fun series of levels. While the campaign doesn't last very long, it provides a good variety of gameplay ideas that keep it feeling fresh the whole way through. This is a must-buy game for any platformer fan, especially at that price.
---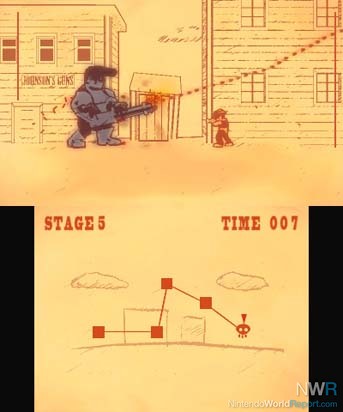 ---

Review from Dave Mellert, Contributing Editor
This is one of those examples of a game that won me over by its price as much as its actual content. Packed with two to three hours of straightforward, gorgeous, run-and-gun platforming, it is certainly a better use of your $2 than a latte. And those graphics! I would have paid a buck just to check out the 3D art - Gunman Clive makes a very impressive use of the 3DS's main feature. I think this game is a no-brainer for anyone with a 3DS.
---

Review from Justin Berube, Staff Writer
A platforming game with shooting elements, Gunman Clive is almost like a Mega Man and Contra hybrid, but sadly doesn't excel in either area. That said, the title is still a fun game while it lasts, which is approximately 30 minutes. The game's short length may seem like a problem, however it isn't so bad since the title only costs $2. What really makes Gunman Clive worth it is its unique hand drawn looking art style which is something I'll remember for a long time.
---

Review from Zack Kaplan, Staff Writer
Gunman Clive is a good illustration of what makes a quality eShop title. Appealing visuals, fun platforming action, and some catchy music make up for a very short but enjoyable experience The game's length is its downfall, even at the low price point the game ends too soon. I personally finished it in an hour. Still, it is still a great trip through the wild west.
---

Review from James Jones, Senior Editor
As visually arresting as it is, Gunman Clive's style cannot counter what are a handful of very noticeable issues that detract from an otherwise enjoyable experience. Besides its almost comical lack of length, the action feels very slow when compared to similar titles, the power-ups feel incongruous with the current challenge, and the fact each enemy encounter is a "one-on-one" experience prevents the game from offering for true difficulty scaling. The building blocks for a really good game are here, but compared to other run-and-gun games its patterned after the game feels as empty as the ink pen visuals.
---

Review from David Egolf, Programmer
With great graphics, a fun little story, and some wonderful music, Gunman Clive is certainly one of those games that is worth playing at least once. While keeping controls simple, it manages to provide the right amount of challenge that doesn't get tiresome quickly. This game does end up on the shorter end of the scale, however that's not entirely to it's detriment. After a few playthroughs, it becomes a time trial (while trying to minimize deaths,) perfect for when you have a few minutes to kill before an appointment.