Double Dragon, Miracle Mask Plus, some Game Gear love, and a slew of videos hit the eShop in Japan this week.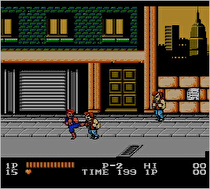 We have some big-name titles coming to the digital space this week, including two of the biggest Japanese franchises out there with Dragon Quest and Layton. Here's a complete list of all the releases for this week:
3DS
Downloadable Titles
Magi Hajimari no Meikyū (Demo) - FREE
Layton Kyouju Kyōjyu: Kiseki no Kamen Plus (Professor Layton and the Miracle Mask Plus, retail game) - 3,000 yen
Dragon Quest VII - Eden no Senshitachi (retail title) - 6,090 yen
Virtual Console
Double Dragon (Famicom) - 500 yen
Ariel Crystal Densetsu (Crystal Warriors, Game Gear) - 300 yen
Video Content
So, two Nintendo Directs snuck by us all. Starting last Friday, Nintendo released a nearly forty-minute long Animal Crossing Direct that shows off winter environments in the towns the developers have created, among a few other things. You can check out the video below in its entirety. There was also a short Chotto Nintendo Direct (referred to as Nintendo eShop News) released on the Wii U eShop today talking about special prizes for Wii U games being registered on Club Nintendo here in Japan. Players can register for a chance to win one year of free karaoke via Wii Karaoke U. There will be 1,000 winners and all entrants will receive 24 hours of free karaoke for the game.
A handful of other videos were uploaded to the eShop this week as well. First are some videos for Fantasy Life, detailing the interior design elements of the game, as well as showing off pets in the game. Your pets not only follow you around, but appear to assist you in battles. Another video shows off some of the bigger creatures that lurk around the overworld and feature footage of players beating an ice dinosaur, a flying creature, and a few others. The last video shows how by choosing the life of a prospector, you can take elements that you mine and then use them to construct weapons that can be used against monsters. Every time I see video footage of this game, I can't help but think how much it reminds me of Animal Crossing with enemies to fight.
There were some really cool videos added to the eShop for New Super Mario Bros. U that show some people with some wicked skills. Our very own Daan Koopman mentioned one of these videos in the last episode of The Famicast, talking about a four-player simultaneous romp through a stage. There are three separate videos added, and you can view the one I just talked about below. If you want to watch some more awesome videos for New Super Mario Bros. U, be sure to check out the channel on YouTube. Last but not least, rounding out the video content were a new set of commercials for Animal Crossing and preview videos for Tank! Tank! Tank!, Professor Layton and the Miracle Mask, Magi Hajimari no Meikyū, Zombie Slayer, Johnny Kung Fu, and Nyokenshi Akane.